Rachel Carson College Faculty Fellows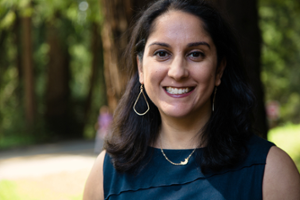 Sikina Jinnah is Rachel Carson College's new faculty chair!
The Chair of the Faculty is an Academic Senate member, other than the Provost, who is elected by the college Faculty to serve a two year term, and will serve as a member of the Executive Committee.
Dr. Jinnah is an Associate Professor in the Politics Department, an affiliated faculty member in the Environmental Studies Department, and a 2017 Andrew Carnegie Fellow. Her research focuses on the shifting locations of power and influence in global environmental governance, and in particular the role of transnational actors in environmental decision-making. Her most recent projects examine how key norms in global climate politics shape power relations, the role of U.S. preferential trade agreements in shaping environmental policy in trading partner nations, and the politics of climate engineering governance. 
Title

Rachel Carson College and Oakes College Academic Literacy Curriculum Liaison
Writing Program Faculty
UC-AFT Continuing Faculty

Division Humanities Division, Baskin School of Engineering, Undergraduate Education
Department

Writing Program
Rachel Carson College
Biomolecular Engineering

Affiliations Environmental Studies Department
Phone
Email
Office Location

Rachel Carson College Academic Building, 333

Office Hours Winter 2020: M 12:30 PM-2:00 PM, W 1:30-2:30 PM and by appointment M-TH
Mail Stop Rachel Carson College Faculty Services
Mailing Address

Rachel Carson Fac Serv, 1156 High Street
Santa Cruz CA 95064

Courses WRIT 2: Breaking Science (Rhetoric & Inquiry); CRSN 80A/C/D, College 1; BME 185: Technical Writing for Biomolecular Engineers; Writing Assistant mentoring/supervising; Core Course Instructional Assistant mentoring
Summary of Expertise
Ecology; agroecology and food systems; plant-insect interactions; entomology; plant population biology; matrix population models; political economy; writing in the physical and biological sciences; writing and learning
Research Interests
Ecological risks of genetically engineered organisms; population dynamics; agroecology and food systems; science and uncertainty
Biography, Education and Training
Ph.D., Environmental Studies, UCSC
Teaching Interests
Science writing; writing instruction for students of physical and biological sciences; environmental science; entomology; plant population biology; service learning and activism.