Rachel Carson College Faculty Fellows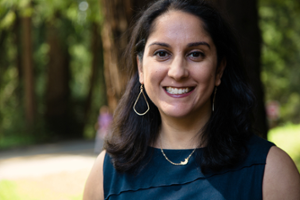 Sikina Jinnah is Rachel Carson College's new faculty chair!
The Chair of the Faculty is an Academic Senate member, other than the Provost, who is elected by the college Faculty to serve a two year term, and will serve as a member of the Executive Committee.
Dr. Jinnah is an Associate Professor in the Politics Department, an affiliated faculty member in the Environmental Studies Department, and a 2017 Andrew Carnegie Fellow. Her research focuses on the shifting locations of power and influence in global environmental governance, and in particular the role of transnational actors in environmental decision-making. Her most recent projects examine how key norms in global climate politics shape power relations, the role of U.S. preferential trade agreements in shaping environmental policy in trading partner nations, and the politics of climate engineering governance. 
Title

Professor
Director of Legal Studies

Division Social Sciences Division
Department
Affiliations Legal Studies
Phone
Email
Website
Office Location

Merrill College Academic Building, 154

154 Merrill College

Office Hours Weds. 1:00-2:30p individual meetings + 2:30-3:00p dicta (virtual walk with students).
Mail Stop Merrill/Crown Faculty Services
Mailing Address

1156 High St.
Santa Cruz CA 95064

Faculty Areas of Expertise

Law and Policy, Human Rights, Islamic Studies, International and Global Affairs

Courses LGST 10 Introduction to Legal Studies (Law, Jurisprudence, and Society); POLI/LGST 160B International Law; POLI/LGST 175 Human Rights; POLI 190R Comparative Law and Society; POLI 202 Fundamentals of Political Research (Research Design and Qualitative Methods)
Research Interests
Mark Fathi Massoud is professor of politics and legal studies at UC Santa Cruz. He directs the Legal Studies Program and serves as affiliated faculty with the Center for the Middle East and North Africa.


Massoud studies law in states under crisis, using archival research, ethnographic fieldwork, and interviews. His first book, Law's Fragile State, examines how colonial officials, authoritarian regimes, and international lawyers reformed Sudan's legal systems to achieve their goals. His second book, Shari'a, Inshallah, investigates the endurance of Islamic law in Somali politics. Massoud is also principal investigator (with Kathleen M. Moore) of Shari'a Revoiced, a study of Islamic law in the United States.


Massoud is series editor of the Cambridge Studies in Law and Society. He serves on editorial boards of Law & Society Review, Law & Social Inquiry, Law & Policy, and the International Journal of Law in Context. He is on the Board of Trustees of the Law and Society Association.

Born in Sudan and raised in California, Massoud is a first-generation university graduate. He has received Guggenheim, Carnegie, Mellon, and ACLS fellowships, and he has held visiting positions at Stanford, Princeton, Oxford, and McGill. He will give the Evans-Pritchard Lectures at Oxford University in 2022.


Biography, Education and Training
PhD, Jurisprudence and Social Policy, UC Berkeley
JD, UC Berkeley School of Law
MA, Peace Studies, University of Notre Dame
BA, Economics, Sociology, University of Notre Dame
Honors, Awards and Grants
FELLOWSHIPS
• Guggenheim Fellow, John Simon Guggenheim Memorial Foundation
• Carnegie Fellow, Carnegie Corporation of New York
• New Directions Fellow, Andrew W. Mellon Foundation
• ACLS Fellow, American Council of Learned Societies


VISITING POSITIONS
• Oxford University, Oxford Centre for Islamic Studies and Nuffield College
• Graduate Theological Union, Center for Islamic Studies
• Princeton University, Law and Public Affairs Fellow
• Konstanz University, Visiting Professor
• Stanford University, Hewlett Fellow

HONORS & AWARDS
• Evans-Pritchard Lectures, All Souls College, Oxford, 2022, invited
• Noel Q. King Memorial Lecture, UC Santa Cruz, 2018
• Friedman-Lowenthal Essay Prize, Graduate Theological Union, 2018
• Mohannad Malas Distinguished Lecture, UC Irvine School of Law, 2017
• Law and Society Association Herbert Jacob Book Prize, 2014
• Honorable Mention, American Political Science Association Pritchett Award for best book on law and courts, 2014
• Law and Society Association 50th Anniversary Essay Award, 2014
• Canadian Association of Law Teachers Scholarly Paper Award, 2012
• American Political Science Association Corwin Award for best dissertation in public law, 2009
• Law and Society Association Dissertation Prize, 2009
• Fulbright-Hays Dissertation Fellowship, 2006-2007
Selected Publications

BOOKS
• 2021 Shari'a, Inshallah: Finding God in Somali Legal Politics Cambridge University Press, in press
• 2013 Law's Fragile State: Colonial, Authoritarian, and Humanitarian Legacies in Sudan Cambridge University Press (paperback 2014)

ARTICLES
• 2020 The Rule of Law in Fragile States: Dictatorship, Collapse, and the Politics of Religion in Postcolonial Somalia, Journal of Law and Society, in press
• 2020 Shari'a Consciousness: Law and Lived Religion among California Muslims Law & Social Inquiry 45(3): 787-817 (with K. M. Moore)
• 2020 Sudan's Rule of Law Revolution Current History 119: 169-174
• 2019 Theology of the Rule of Law Hague Journal on the Rule of Law 11(2-3): 485-491
• 2019 Islamic Law, Colonialism, and Mecca's Shadow in the Horn of Africa Journal of Africana Religions 7(1): 121-130
• 2018 How an Islamic State Rejected Islamic Law American Journal of Comparative Law 66(3): 579-602
• 2018 Reflections on the Future of Global Legal Studies Indiana Journal of Global Legal Studies 25(2): 569-581
• 2016 Field Research on Law in Conflict Zones and Authoritarian States Annual Review of Law and Social Science 12: 85-106
• 2016 Ideals and Practices in the Rule of Law: An Essay on Legal Politics Law & Social Inquiry 41(2): 489-501
• 2015 Rethinking Shari'a: Voices of Islam in California Boom: A Journal of California 5(4): 94-99, 2015 (with K. M. Moore)
• 2015 Work Rules: How International NGOs Build Law in War-Torn Societies Law & Society Review 49(2): 333-364
• 2015 International Arbitration and Judicial Politics in Authoritarian States Law & Social Inquiry 39(1): 1-30
• 2013 Legal Poverty and the Rule of Law in Strife-Torn States Whittier Law Review 34(2): 245-259
• 2011 Do Victims of War Need International Law? Human Rights Education Programs in Authoritarian Sudan Law & Society Review 45(1): 1-32
• 2006 The Influence of International Law on Local Social Movements Peace & Change: A Journal of Peace Research 31(1): 3-32
• 2006 Rights in a Failed State: Internally Displaced Women in Sudan and Their Lawyers Berkeley Journal of Gender, Law & Justice 21: 2-12


CHAPTERS
• 2020 Landscapes of Law in War-Torn Societies in Landscapes of Law: Practicing Sovereignty in Transnational Terrian, University of Pennsylvania Press, in press
• 2019 The Legal Profession's Promise of Justice: Choices and Challenges in Legal and Socio-Legal Work in The Legal Process and the Promise of Justice: Studies Inspired by the Work of Malcolm Feeley, Cambridge University Press
• 2016 The Politics of Islamic Law and Human Rights: Sudan's Rival Legal Systems in The New Legal Realism, Volume Two: Studying Law Globally, Cambridge University Press
• 2012 Lawyers and the Disintegration of the Legal Complex in Sudan in Fates of Political Liberalism in the British Post-Colony: The Politics of the Legal Complex, Cambridge University Press

COMMENTARIES
• 2019 Don't blame Sharia for Islamic extremism -- blame colonialism The Conversation (republished in San Francisco Chronicle, AP News, Houston Chronicle, and other outlets)
• 2018 Is the South Sudan Power-Sharing Deal Bound to Fail? The Africa Report
• 2018 UCSC Student Housing Plan Falls Short Santa Cruz Sentinel
• 2017 Forget an Escape to Canada — Look to the south San Francisco Chronicle
• 2016 Three Important Points to Help in Understanding South Sudan's Worsening Crisis The Washington Post (Monkey Cage)
• 2015 How Can Universities Deal With Racism? Learn from War Zones. The Washington Post (Monkey Cage)
• 2015 Can Sudan Survive Another Term of Bashir's Rule? The Africa Report
• 2014 Crafting Peace in South Sudan Foreign Policy
• 2014 Preventing Civil War in South Sudan: Christian Leaders Should Resume Activism The New York Times (Room for Debate)
• 2014 How Grassroots Peace Can Take Hold in South Sudan Christian Science Monitor
• 2013 Sudan's Struggle for Peace Foreign Policy
• 2011 US Has a Stake in Sudan Secession Vote San Jose Mercury News
• 2005 Returning the Rule of Law to Sudan San Francisco Chronicle