Rachel Carson College Cafe
Overlooking the scenic plaza, the Rachel Carson College (formerly College Eight) Cafe, now managed under Dining Services, specializes in made to order espresso coffee drinks and teas, fresh (baked on campus) pastries, grab-and-go meals, and artisan ice cream by Santa Cruz local favorite Mission Hill Creamery, made from the finest, freshest, organic ingredients!
Hours of Operation
Monday through Friday: 8:00am - 8:00pm
Saturday and Sunday: Closed
For more details including a menu click here.
__________________
The Cafe Green Room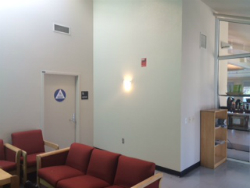 This space inside the Cafe accomodates between 5-10 people and can be reserved by student groups or campus units during the Cafe's normal hours of operation.
Please note, this space does house the restroom that remains accessible regardless of reservation status.
To reserve the Green Room click here; for any questions, contact the RCC Student Life Office at (831) 459-4279.