Rachel Carson College Faculty Fellows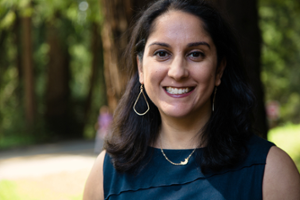 Sikina Jinnah is Rachel Carson College's new faculty chair!
The Chair of the Faculty is an Academic Senate member, other than the Provost, who is elected by the college Faculty to serve a two year term, and will serve as a member of the Executive Committee.
Dr. Jinnah is an Associate Professor in the Politics Department, an affiliated faculty member in the Environmental Studies Department, and a 2017 Andrew Carnegie Fellow. Her research focuses on the shifting locations of power and influence in global environmental governance, and in particular the role of transnational actors in environmental decision-making. Her most recent projects examine how key norms in global climate politics shape power relations, the role of U.S. preferential trade agreements in shaping environmental policy in trading partner nations, and the politics of climate engineering governance. Title

Associate Professor
Department Chair

Division Social Sciences Division
Department
Affiliations Humanities Division, Feminist Studies Department, Critical Race and Ethnic Studies
Phone

831-459-3516

,

831-459-3717

Email
Office Location

Rachel Carson College Academic Building, 210

Office Hours Tuesdays 1:30-3:30pm; and by appointment
Mail Stop Rachel Carson College Faculty Services
Mailing Address

1156 High Street
Santa Cruz CA 95064

Faculty Areas of Expertise

Sociology, Cultural Studies, Critical Race and Ethnic Studies, Gender Studies, Sexuality, Ethnography

Courses SOCY 120 Gender, Race/Ethnicity, Sexuality, and Cultural Politics; SOCY 124 Visual Ethnography; SOCY 126 Sex And Sexuality As Social Practice And Representation; SOCY 129 Popular Culture and Cultural Studies; SOCY 158 Politics of Sexual Commerce and Erotic Labor; SOCY 187 Feminist Theories; SOCY 205 Field Work Methods/Critical Ethnography; SOCY 209 The Analysis of Cultural Forms; SOCY 255 Engaging Cultural Studies; SOCY 259 Feminisms and Cultural Studies
Research Interests
Cultural studies and popular culture; race/ethnicity; gender, sexuality, and cultural politics; critical ethnography and qualitative methodologies.
Biography, Education and Training
Ph.D. Sociology, 1997. University of California at Davis with a designated emphasis in Feminist Theory and Research, Department of Women's Studies.
M.A. Sociology, 1992. University of California at Davis
J Bettie's research brings together these broad areas of scholarship: feminist, queer, and cultural theory; gender, race/ethnicity, sexuality and cultural politics; popular culture and the practices of everyday life; erotic labor and sexual commerce; and critical qualitative methodologies. Her scholarship generally examines the cultural politics of how inequalities are reproduced and challenged (across multiple sites such as popular culture, education, and most recently, sexual commerce); explores the dynamic between multiple, interacting social formations and cultural and political consciousness; considers the relationship between economic and cultural transformations and the production of new subjectivities; and works to show how new selves are performed and embodied.
Bettie is the author of Women without Class: Girls, Race, and Identity (University of California Press, 2004, 2014). She has published in journals such as Social Text, Signs: Women in Culture and Society, and Gender Studies. She is a recent past Chair of the Race, Gender, and Class Section of the American Sociological Association.
Professor Bettie's current research, based on four years of ethnographic immersion with erotic service providers in Las Vegas, provides a thick description of erotic labor using the culture of erotic dance as a site to speak to larger issues of contemporary gender, sexual, race, and class politics.
Examining the contemporary cultural contestation over young female sexuality, this research describes cultural shifts that have brought forth new categories of young womanhood, altering the meanings of womens sexual subjectivities and erotic embodiments. It explores the emergence of new femininities, new ethnicities, new forms of racialized embodiment, and new erotic dispositions produced by a range of economic and cultural transformations, including post-second-wave feminism, "postrace" culture, and the queering of domestic life. Finally, this new book in process considers how women in erotic labor and everyday life creatively negotiate this new landscape at once oppressive, and yet open, with possibilities.
Honors, Awards and Grants
Outstanding Achievement in Scholarship Award in Race, Gender, and Class studies from the American Sociological Association, 2004.
Sex and Gender Distinguished Book Award from the American Sociological Association, 2004.
AESA Critics Choice Award from the American Educational Studies Association, 2003.
Distinguished Article Award from the Sex and Gender Section of the American Sociological Association, 2001.
Selected Publications
Women Without Class: Girls, Race, and Identity. 2014. Second Edition. Berkeley: University of California Press.
"Exceptions to the Rule: Upwardly Mobile White and Mexican American High School Girls", in Gender and Society, Vol. 16 No. 3, June 2002.
"Women without Class: Chicas, Cholas, Trash and the presence/absence of class identity," in Signs: Journal of Women in Culture and Society, Vol. 26, No. 1, Autumn 2000.
"Class Dismissed? Roseanne and the Changing Face of Working Class Iconography," Social Text 45, Vol. 14, No. 4, Winter 1995.
Teaching Interests
My teaching style centers on interactive, collaborative, student-centered learning. This means inverting the traditional expectations of the college classroom by often putting students in control, requiring interactive engagement, and peer instruction. My courses are characterized by: reading intensive syllabi, daily reading responses, daily quizzes, and listening comprehension quizzes instead of midterms and final exams, small group discussions, student facilitated discussions which are co-produced with the instructor in advance, and instructor overviews.
Media representations, both news media and popular culture, figure largely in my classrooms. Students are asked to bring media examples to class, and we work together to learn how to use social theory in the consumption and production of everyday public discourse. Learning "facts" (that are too often quickly forgotten) is complemented with the more important task of learning to think critically in daily life outside of the classroom in an ongoing way. Students are expected to demonstrate how to use the tools of analysis presented in the course material to engage in critical thinking through classroom dialogues with their peers and with myself in a collaborative learning process.
Through interactive, collaborative, student centered learning, it is my goal to spark in students an enthusiasm for observing what is happening in the world, for raising questions about who profits from current social arrangements, for inspiring creative modes of transgression, and for imagining more just futures.