Rachel Carson College Faculty Fellows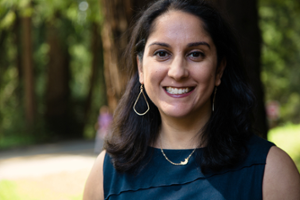 Sikina Jinnah is Rachel Carson College's new faculty chair!
The Chair of the Faculty is an Academic Senate member, other than the Provost, who is elected by the college Faculty to serve a two year term, and will serve as a member of the Executive Committee.
Dr. Jinnah is an Associate Professor in the Politics Department, an affiliated faculty member in the Environmental Studies Department, and a 2017 Andrew Carnegie Fellow. Her research focuses on the shifting locations of power and influence in global environmental governance, and in particular the role of transnational actors in environmental decision-making. Her most recent projects examine how key norms in global climate politics shape power relations, the role of U.S. preferential trade agreements in shaping environmental policy in trading partner nations, and the politics of climate engineering governance. 
Title
Division Social Sciences Division
Department

Environmental Studies Department

Affiliations Latin American & Latino Studies, Research Center for the Americas
Phone
Email
Fax
Website
Office Location

Nat Sci 2 Main Building, Rm 457

Office Hours Spring 2019 - usually M and Th 3-4 sign up at http://tinyurl.com/hpz6j33
Mail Stop Environmental Studies
Mailing Address

461 Natural Science 2
Santa Cruz CA 95064

Faculty Areas of Expertise

Ecology, Conservation, Plant Sciences, Natural History, Natural Resource Management, Land Management
Summary of Expertise
Restoration Ecology, tropical ecology, grassland ecology
Biography, Education and Training
Karen Holl is a Professor of Environmental Studies at the University of California, Santa Cruz. Her research focuses on understanding how local and landscape scale processes affect ecosystem recovery from human disturbance and using this information to restore damaged ecosystems. Her current research is focused in rain forests in Latin America and chaparral, grassland and riparian systems in California. She oversees a long-term tropical forest restoration study in southern Costa Rica and has worked with students and collaborators in Mexico, Brazil, Colombia, and Panama. She advises numerous land management and conservation organizations in California and internationally on ecological restoration. She works to further efforts to conserve tropical forest, in part by training students from Latin American countries. She currently holds the Griswold Endowed Chair. She was selected as an Aldo Leopold Leadership Fellow, a Fellow of the California Academy of Sciences, and the 2017 co-winner of the Theodore Sperry Award of the Society for Ecological Restoration. She teaches courses in restoration ecology, conservation biology, and environmental problem solving. She has served as chair of the Environmental Studies Department at UCSC and is currently the faculty director of the Kenneth S. Norris Center for Natural History.