Rachel Carson College Faculty Fellows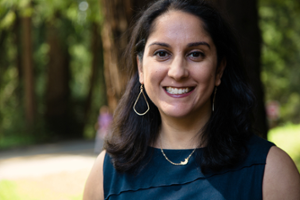 Sikina Jinnah is Rachel Carson College's new faculty chair!
The Chair of the Faculty is an Academic Senate member, other than the Provost, who is elected by the college Faculty to serve a two year term, and will serve as a member of the Executive Committee.
Dr. Jinnah is an Associate Professor in the Politics Department, an affiliated faculty member in the Environmental Studies Department, and a 2017 Andrew Carnegie Fellow. Her research focuses on the shifting locations of power and influence in global environmental governance, and in particular the role of transnational actors in environmental decision-making. Her most recent projects examine how key norms in global climate politics shape power relations, the role of U.S. preferential trade agreements in shaping environmental policy in trading partner nations, and the politics of climate engineering governance. 
Title
Division Humanities Division
Department

Oakes College
Writing Program

Affiliations Oakes College
Phone
Email
Office Location

Oakes College Academic Building, Oakes #313

Office Hours Fall 2019: Tuesdays 2-3:30pm in Oakes 313 and by appointment
Mail Stop EPC/Community Studies
Mailing Address

Oakes College 313
Santa Cruz CA 95064

Faculty Areas of Expertise

Writing, Poetry, Literature, Personal and Social Identities, Diversity, Digital Humanities, Social Justice

Courses Oakes College Core Course, Oakes & Rachel Carson Academic Success, Writing 2: Youth Identity in a Networked Culture, Oakes College Mentoring, Diverse Voices in Contemporary American Women's Poetry
Research Interests
Digital Identity Production in Youth
Establishing Ethos in Writing
Writing of Witness
African-American Literature and Literary Theory
Writng as Social Activism
Writing as Identity Development
Poetry Analysis and Interpretation
Development of Critical Consciousness
Biography, Education and Training
M.F.A. in Poetry, University of Oregon Creative Writing Program, June 2001
Concentrations: Ethos and the Construction of the Poetic Speaker, Contemporary American Poetry and Poetics, Cultural Theory
Advisors: Garrett Hongo, Pimone Triplett, and Dorianne Laux
Thesis: "Imprint," presented June 2001

B.A. in Creative Writing, Oberlin College, May 1999
Concentrations: African-American Literature and Literary Theory, Contemporary American Women Poets, Translating Poetry
Advisors: Calvin Hernton and Martha Collins
Selected Publications
"Wedge." Holmes and Rogers, ed. Not A Muse: A World Poetry Anthology. Hong Kong: Haven Books, 2009.
"Charleston, South Carolina." Monson, Ander, ed. (Some From) Diagram: An Anthology of Text, Art, and Schematic. Washington, DC: Del Sol Press, 2003.
"Lake Ontario in Midwinter." Climate Controlled: An Electronic Anthology of Northern Literature, Spring 2002. [http://thediagram.com/cc/]
"Charleston, South Carolina." Diagram 1.6 (2001). [http://www.webdelsol.com/DIAGRAM/1_6/index.html] "Ashtabula." The Oklahoma Review 1.2 (2000).