Rachel Carson College Faculty Fellows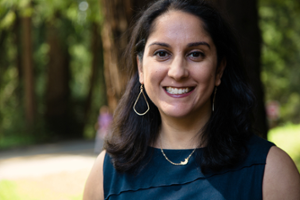 Sikina Jinnah is Rachel Carson College's new faculty chair!
The Chair of the Faculty is an Academic Senate member, other than the Provost, who is elected by the college Faculty to serve a two year term, and will serve as a member of the Executive Committee.
Dr. Jinnah is an Associate Professor in the Politics Department, an affiliated faculty member in the Environmental Studies Department, and a 2017 Andrew Carnegie Fellow. Her research focuses on the shifting locations of power and influence in global environmental governance, and in particular the role of transnational actors in environmental decision-making. Her most recent projects examine how key norms in global climate politics shape power relations, the role of U.S. preferential trade agreements in shaping environmental policy in trading partner nations, and the politics of climate engineering governance. 
Title
Division Social Sciences Division
Department
Affiliations Center for Collaborative Research for an Equitable California, Research Center for the Americas, Latin American & Latino Studies
Phone
Email
Website
Office Location

Rachel Carson College Academic Building, 208

Office Hours Tuesdays 8:30-11:30; and by appointment sign up: https://www.wejoinin.com/sheets/lmeqk
Mail Stop Rachel Carson College Faculty Services
Mailing Address

1156 High Street
Santa Cruz CA 95064

Faculty Areas of Expertise

Sociology, Urban studies, Cultural Studies, Environmental Studies

Courses SOCY 105A Classical Sociological Theory; SOCY 260 Culture, Knowledge, Power; SOCY 10 Issues and Problems in American Society; SOCY 177 Urban Sociology; SOCY 177E Eco-Metropolis; SOCY 177G Global Cities; SOCY 131 Media, Marketing, and Culture; SOCY 201 The Making of Classical Theory
Research Interests
Urban sociology, geography, urban environmental studies, urban political ecology, disaster and crisis, sustainability studies, media and cultural studies, social movements, social theory, and the social, cultural, and environmental history of New York City, Buenos Aires, and California.
Biography, Education and Training
2000 - Ph.D. Sociology with Highest Distinction, City University of New York.
1986 – B.A. Urban Studies with a minor in Media Studies, Eugene Lang College at the New School for Social Research.
Miriam Greenberg is Professor of Sociology at the University of California Santa Cruz. Her research links urban studies, cultural studies, and the study of place, space, politics, and the environment. She holds a PhD in Sociology from the City University of New York Graduate Center, and is the author of Branding New York: How a City in Crisis was Sold to the World (Routledge, 2008), and Crisis Cities: Disaster and Redevelopment in New York and New Orleans (Oxford, 2014). Since 2013, she has been directing the Critical Sustainabilites project, which can be found at: https://critical-sustainabilities.ucsc.edu/
Honors, Awards and Grants
Awards
2014. U.C. Humanities Research Institute: Residential Research Group, UC Irvine, in "Urban Ecologies."
Present-2010. Faculty Fellow at the Center for Collaborative Research for an Equitable California.
2010. Winner of the Robert E. Park Book Award for Branding New York: How a City in Crisis Was Sold to the World, from the Community and Urban Sociology Section of the American Sociological Association.
Grants
2013-12. University of California's Humanities Research Institute, California Studies Workgroup Grant for "Critical Sustainabilities: Analyzing Competing Discourses of Urban Development in California." $18,000.
Selected Publications
Books
Chapters in Books
Journal Articles
Selected Presentations
Public Lecture or Forum Participation
2013. Talk in honor of David Harvey for "Social Justice and the City 1973-2013: 40th Anniversary Celebration", for the Graduate Program in Design and Urban Ecologies at Parsons The New School for Design and The Center for Place Culture and Politics, City University of New York.
2011. "The Abandoned Movie Set: Art, Space, and the Politics of Crisis in 1970s-Era New York City." Talk given for workshop "Cultural Landscapes of Boom and Bust" for the "Creative City Limits: Urban Cultural Economy in a New Era of Austerity" conference. Department of Geography, University College London.
2011. "Seminario Abierto: Branding New York: How a City in Crisis was Sold to the World." Área de Estudios Urbanos del Instituto de Investigaciones Gino Germani de la Facultdad de Ciencias Sociales, Universidad de Buenos Aires.
Papers Presented at Professional Meetings
2015. "Challenging Uneven Development: Right to the City Organizing in the Wake of Disaster," for the Community Responses to Disaster and Crisis Panel, Eastern Sociological Society Meetings, New York City.
2015. Presider, "Presidential Session: Loft Living: Twenty-five Years Later" In honor of Sharon Zukin's book. Eastern Sociological Society Meetings, New York City.
2013. "Critical Sustainabilities: Competing Discourses of Urban Development in California", for the Sustainable California? Panel at the American Association of Geographers in Los Angeles.
2012. "Landscapes of Risk and Resilience: The Socio-Spatial Production of Environmental Crisis in the U.S. and Latin America." RC24 panel: "Current Research in Environmental Sociology," International Sociological Association.
2012. "New Urban Imaginaries in the Branded City: Towards a Critical and Comparative Approach." RC21 panel: "The role of design and social justice in 21st century cities: Paradoxes and challenges." International Sociological Association, Buenos Aires.