Rachel Carson College Faculty Fellows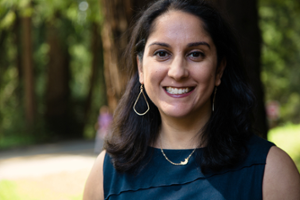 Sikina Jinnah is Rachel Carson College's new faculty chair!
The Chair of the Faculty is an Academic Senate member, other than the Provost, who is elected by the college Faculty to serve a two year term, and will serve as a member of the Executive Committee.
Dr. Jinnah is an Associate Professor in the Politics Department, an affiliated faculty member in the Environmental Studies Department, and a 2017 Andrew Carnegie Fellow. Her research focuses on the shifting locations of power and influence in global environmental governance, and in particular the role of transnational actors in environmental decision-making. Her most recent projects examine how key norms in global climate politics shape power relations, the role of U.S. preferential trade agreements in shaping environmental policy in trading partner nations, and the politics of climate engineering governance. 
Title
Division Humanities Division
Department
Affiliations Environmental Studies Department
Phone

831-459-4915

 (office)

,

831-459-2555

 (message)

Email
Office Location

Stevenson College Academic Building, 216

Office Hours Fall 2020: On leave
Mail Stop Stevenson Academic Services
Mailing Address

1156 High Street
Santa Cruz CA 95064

Faculty Areas of Expertise

Environmental History, History, Water, Colonialism, European Studies, History of Science, Russia, Soviet and Post Soviet Studies, Environmental Studies, Asian Studies

Courses HIS 152 Trade and Travel on the Silk Roads, HIS 152C Islam in Eurasia, HIS 173B Imperial Russia, HIS 173C The Soviet Union, HIS 177 Environment in the 19th Century, HIS 196F Environment and Empire, HIS 196V The Soviet Experience, HIS 196W Brave New World: Visions of Utopia in the Soviet Union, HIS 202 Practicing World History, HIS 251A Readings in Modern European History: Environment and Technology
Advisees, Grad Students, Researchers Andrei Tcacenco
Summary of Expertise
Russian History
European History of the 19th and 20th centuries
Environmental History
Central Asia
Research Interests
Imperial Russian and Soviet history
Comparative empire/colonialism
Central Asian history
Water
Environmental History
History of engineering
History of frontiers and borderlands
Biography, Education and Training
Ph.D. in History, Harvard University, 2011
A.M. in Regional Studies: Russia, Eastern Europe, and Central Asia, Harvard University, 2005
B.A. with High Honors in History (major), Russian (minor), and German Studies (concentration), Swarthmore College, 2002
Honors, Awards and Grants
UCSC Digital Instruction Project Fellow, 2018-2019
Visiting Researcher, Eberhard-Karls-University, Tübingen, Germany (Fall 2018)
UCHRI Junior Faculty Manuscript Workshop award, 2017
UCSC IHR Faculty Fellowship, 2016
Carson Center Fellowship, 2012-13 (Rachel Carson Center, LMU, Munich, Germany)
College Fellowship, 2011-12 (Dept. of the History of Science, Harvard University)
Social Science Research Council Eurasia Dissertation Support Fellowship, 2010-11
American Society for Environmental History Travel Grant, 2009
Fulbright-Hays Doctoral Dissertation Research Abroad Fellowship, 2008-09
Social Science Research Council International Dissertation Research Fellowship, 2008-09
Social Science Research Council Dissertation Proposal Development Fellowship, 2007
Merle Fainsod Prize, 2005-06; 2003-04 (Harvard University)
Roger Martin Travel and Research Grant, 2005-06 (Harvard University)
Foreign Language Area Studies Fellowship (Russian), 2004-05; 2003-04
Abby and George O'Neill Graduate Research Travel Grant, 2004 (Harvard University)
Fulbright IIE Fellowship, 2002-03 (Berlin, Germany)
Phi Beta Kappa, 2002
Selected Publications
Pipe Dreams: Water and Empire in Central Asia's Aral Sea Basin (Cambridge: Cambridge Univ. Press, 2019).
"US to USSR: American Experts, Irrigation, and Cotton in Soviet Central Asia, 1929-32," Environmental History 21, 3 (2016): 442-466.
"Engineering Empire: Russian and Foreign Hydraulic Experts in Central Asia, 1887-1917." Cahiers du Monde Russe, Special Issue: "Land, soil and people. Agricultural expertise and power (19th-20th centuries)," 57, 1 (January-March 2016): 125-146.
Marks, Peterson, Gao, and Worster, roundtable on Ling Zhang, The River, the Plain, and the State: An Environmental Drama in Northern Song China, 1048–1128, ed. Chris F. Jones. H-Environment Roundtable Reviews 8, 4 (2018).
Teaching Interests
Russian and Soviet history
Modern European history
Environmental History
History of Science and Technology
History of the Silk Roads
Comparative empire/colonialism
Comparative borderlands