Rachel Carson College Faculty Fellows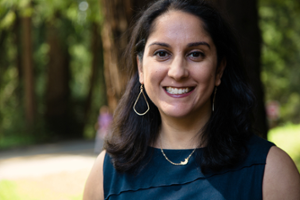 Sikina Jinnah is Rachel Carson College's new faculty chair!
The Chair of the Faculty is an Academic Senate member, other than the Provost, who is elected by the college Faculty to serve a two year term, and will serve as a member of the Executive Committee.
Dr. Jinnah is an Associate Professor in the Politics Department, an affiliated faculty member in the Environmental Studies Department, and a 2017 Andrew Carnegie Fellow. Her research focuses on the shifting locations of power and influence in global environmental governance, and in particular the role of transnational actors in environmental decision-making. Her most recent projects examine how key norms in global climate politics shape power relations, the role of U.S. preferential trade agreements in shaping environmental policy in trading partner nations, and the politics of climate engineering governance. Title

Professor
Founding Director of UCSC OpenLab

Division Arts Division
Department

Art Department
Digital Arts and New Media

Affiliations Digital Arts and New Media
Phone
Email
Website
Office Location

Elena Baskin Building E, E104

Digital Arts Research Center #239

Mail Stop Art Department
Faculty Areas of Expertise

Digital Arts, New Media, Installation Art, Art, Visual Arts, Activism, Digital Humanities
Biography, Education and Training
Jennifer Parker is an artist and Professor of Art. She is the founding Director of UCSC OpenLab Research Center and serves as principle faculty for the Digital Arts & New Media (DANM) MFA program where she directed the Mechatronics collaborative research cohort from 2009-2015 developing research projects that combine art, design, science and technology. She has served as department chair for five years and is currently helping to spearhead the IDEA Hub, a new campus-wide initiative that facilitates hands-on learning for social and creative entrepreneurship through a network of incubation hubs, student fellowships, workshops, and community mentorships.
Parker maintains a multifaceted art practice at the intersection of art and science. The conceptual framework of her research includes a literal, formal, and idiomatic approach to materials and a political, private, and metaphorically abstract attitude toward expression as it relates to information and creativity. This research approach animates a space of possibility by asking the viewer to pay attention to the overlooked details, juxtapositions and interdependencies of our physical and sensory experience in the world around us. To pull information out of pie charts and graphs, to look at, feel and explore ideas as new and innovative forms of expression.
For Parker, being an artist means being an activist, thinker, historian, and teacher who creates deployable art platforms for creating sound, and digital media with organic materials and traditional sculpture fabrication techniques to ask questions and to tell stories.
Teaching Interests
Interactive Art & Design, Art/Science, the Body, Sound, Kinetic Art,