Rachel Carson College Faculty Fellows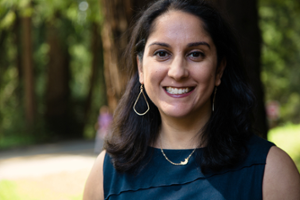 Sikina Jinnah is Rachel Carson College's new faculty chair!
The Chair of the Faculty is an Academic Senate member, other than the Provost, who is elected by the college Faculty to serve a two year term, and will serve as a member of the Executive Committee.
Dr. Jinnah is an Associate Professor in the Politics Department, an affiliated faculty member in the Environmental Studies Department, and a 2017 Andrew Carnegie Fellow. Her research focuses on the shifting locations of power and influence in global environmental governance, and in particular the role of transnational actors in environmental decision-making. Her most recent projects examine how key norms in global climate politics shape power relations, the role of U.S. preferential trade agreements in shaping environmental policy in trading partner nations, and the politics of climate engineering governance. 
Title
Division Social Sciences Division
Department
Affiliations Environmental Studies Department, Rachel Carson College, Electrical and Computer Engineering Department
Phone
Email
Fax
Office Location

Crown College Classroom Building, 234 Crown College

Mail Stop Merrill/Crown Faculty Services
Mailing Address

1156 High Street
Santa Cruz CA 95064

Faculty Areas of Expertise

Energy, Environmental Policy, Foreign Policy, Globalization, International and Global Affairs, Politics, Science and Technology

Advisees, Grad Students, Researchers , Dominique De Wit
Research Interests
Lipschutz conducts research in and writes on a range of topics related to global political economy, including U.S. global economic and military policy and strategy, changing conceptions and practices of security, changing forms of war, global governance, global civil society and corporate social responsibility, environmental politics, energy and resources, sustainability, political economy and popular culture and the governmentality of biosurveillance.
Biography, Education and Training
Ronnie D. Lipschutz received his Ph.D. in Energy and Resources from UC-Berkeley in 1987 and an SM in Physics from MIT in 1978. He has been a faculty member at UCSC since 1990. Lpschutz is Professor of Politics and, from 2012-18, was Provost of Rachel Carson College at the University of California, Santa Cruz. During Fall term 2011, he was a Velux Visiting Professor in the Department of Business and Politics at the Copenhagen Business School. He was a visiting Professor of Politics and International Relations at Royal Holloway, University of London during 2009-10, and a Visiting Professor and Fellow in the Department of International Relations and Politics during 2002.

Lipschutz's most recent books are Political Economy, Capitalism and Popular Culture (Rowman & Littlefield, 2010), The Constitution of Imperium (Paradigm, 2008) and Globalization, Governmentality and Global Politics: Regulation for the Rest of Us? (Routledge, 2005) as well as a text co-authored with Mary Ann Tétreault, Global Politics as if People Mattered (Rowman and Littlefield, 2009, 2nd ed.). He is co-editor (with Shelley Hurt) of Hybrid Rule and State Formation: Public-Private Power in the 21st Century (Routledge, 2015), co-editor (with K. Ravi Raman) Corporate Social Responsibility: Comparative Critiques (Palgrave Macmillan, forthcoming 2010) and (with Gabriela Kütting) of Global Environmental Governance—Power and Knowledge in a Local-Global World (Routledge, 2009), and editors of Civil Societies and Social Movements (Ashgate, 2006). He is also author of, among other volumes, Global Environmental Politics: Power, Perspectives and Practice (Washington, D.C.: CQ Press, 2004), After Authority—War, Peace and Global Politics in the 21st Century (Albany, N.Y.: State University of New York Press, 2000) Cold War Fantasies—Film, Fiction and Foreign Policy (Lanham, Md.: Rowman and Littlefield, 2001) and Global Civil Society and Global Environmental Politics (SUNY Press, 1996), and editor or co-editor of several other books.
Honors, Awards and Grants
Inaugural holder of the Robert Headley Chair in Integral Ecology and Environmental Justice in Rachel Carson College (2017-19).
Acquired an endowment for Rachel Carson College at UC-Santa Cruz from the Helen & Will Webster Foundation ($4,500,000) and a Presidential Chair ($1,000,000).
During term of provost of College Eight/Rachel Carson College, raised over $200,000 from public and private sources in support of student education and projects.
PI (with Sue Carter & Ali Adabi), NSF I-corps project, 2016-17 ($50,000).
PI (with Regina Lanhout), STEM Success class project, 2017, UC Office of the President ($37,000).
Teaching Interests
Since 2006, Lipschutz has worked with faculty, post docs, grad students and undergrads in Engineering, Arts and the Social Sciences to develop curriculum and research in Sustainability and Environment. As Provost of Rachel Carson College, he developed a minor in sustainability studies that offers classroom, lab and field research instruction (see https://rachelcarson.ucsc.edu/academics/Minor/Index.html).