Rachel Carson College Faculty Fellows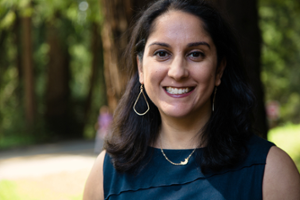 Sikina Jinnah is Rachel Carson College's new faculty chair!
The Chair of the Faculty is an Academic Senate member, other than the Provost, who is elected by the college Faculty to serve a two year term, and will serve as a member of the Executive Committee.
Dr. Jinnah is an Associate Professor in the Politics Department, an affiliated faculty member in the Environmental Studies Department, and a 2017 Andrew Carnegie Fellow. Her research focuses on the shifting locations of power and influence in global environmental governance, and in particular the role of transnational actors in environmental decision-making. Her most recent projects examine how key norms in global climate politics shape power relations, the role of U.S. preferential trade agreements in shaping environmental policy in trading partner nations, and the politics of climate engineering governance. 
Title
Division Arts Division
Department

Film and Digital Media Department

Phone
Email
Fax
Website
Office Location

Communications Building, 109

Mail Stop Film and Digital Media
Mailing Address

1156 High Street
Santa Cruz CA 95064

Faculty Areas of Expertise

Visual Culture; Video Games, Game Design, Game Studies; Game Studies; Visual Arts; Contemporary Art; Contemporary Cinema; Digital Media; New Media; Critical Theory; Cultural Studies
Summary of Expertise
New media art, theory, and criticism. Visual culture including digital, film, video, and electronic games. Theories of technology and globalization. Media representations of technological and scientific advancement. Representations of otherness, migration, citizenship.
Research Interests
Soraya Murray is an interdisciplinary scholar focusing on contemporary visual culture, with particular interest in new media, cultural studies, and globalization in the arts. Her writings have been published in Art Journal, Nka: Journal of Contemporary African Art, Flash Art, and PAJ: A Journal of Performance and Art. She is also a regular contributor to the international contemporary art journal ExitEXPRESS (Spain). She began teaching at the University of California, Santa Cruz in 2007.

Murray's scholarship seeks to unearth the ways that a global phenomenon of electronic mass media and communications technologies shapes human interactions and interpenetrates contemporary experience. How do race, nation, class, gender, and access affect who may share in this experience? How do the technologies that we have fashioned, in turn, refashion us? In her analysis of photography, film, video, electronics, and the digital, Murray seeks to illuminate these technological expressions within the social, theoretical, and historical contexts from which they arise.
Biography, Education and Training
Ph.D., Cornell University, Ithaca, NY
M.A., Cornell University, Ithaca, NY
M.F.A., University of California, Irvine, CA
B.F.A., Occidental College, Los Angeles, CA
Teaching Interests
Digital Media and Culture; Cultural Studies as they intersect with Visual Representation; Media History and Theory; Contemporary Art; Film Studies; Issues of Cultural Globalization; Constructions of Identity.