Rachel Carson College Faculty Fellows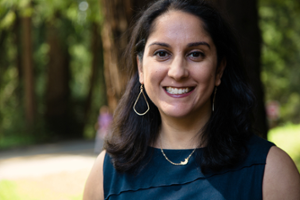 Sikina Jinnah is Rachel Carson College's new faculty chair!
The Chair of the Faculty is an Academic Senate member, other than the Provost, who is elected by the college Faculty to serve a two year term, and will serve as a member of the Executive Committee.
Dr. Jinnah is an Associate Professor in the Politics Department, an affiliated faculty member in the Environmental Studies Department, and a 2017 Andrew Carnegie Fellow. Her research focuses on the shifting locations of power and influence in global environmental governance, and in particular the role of transnational actors in environmental decision-making. Her most recent projects examine how key norms in global climate politics shape power relations, the role of U.S. preferential trade agreements in shaping environmental policy in trading partner nations, and the politics of climate engineering governance. 
Title
Division Baskin School of Engineering
Department

Computer Science and Engineering Department

Phone
Email
Website
Office Location

Jack Baskin Engineering Building, N/A

Engineering 2, Room 565

Office Hours By appointment
Mail Stop SOE3
Mailing Address
Faculty Areas of Expertise

Computer Science, Artificial Intelligence, Machine Learning, Information Technology Management, Big Data, Language Processing

Courses ISM245 Data Mining, ISM260 Information Retrieval, ISM58 System Analysis and Design
Summary of Expertise
Information retrieval
Recommendation systems
Natural language processing
Data mining
Machine learning
Research Interests
Information retrieval
Recommendation systems
Social media analysis
Natural language processing
Data mining
Machine learning
Artificial intelligence
Computational economics
Biography, Education and Training
Dr. Zhang is an associate Professor in School of Engineering, University of California Santa Cruz. Her research interests include large scale information retrieval, recommendation systems, internet advertising, data mining, natural language processing, and applied machine learning. She has published chapters, journal articles, and papers at top conferences in these areas, such ACM SIGIR, WWW, CIKM, IEEE ICDM, ICML, COLINGS, HLT. She received NSF Faculty Early Career Award in 2010, an Air Force Research Young Investigator Award in 2008, the Best Paper Award at ACM SIGIR in 2002, and several other awards. Her Information Retrieval and Knowledge Management Lab is doing research sponsored by several government agencies and companies (Microsoft, Yahoo, Google, NEC, Bosch, Nokia etc.). She has served as a consultant or technical advisor for companies. She regularly serves on the program committees of the very best conferences in her research areas. She has served as area chair or senior PC member at ACM SIGIR, EMNLP, and ACM Recommender Systems. She has served as conference co-chair in charge of Information Retrieval area at the ACM Conference on Information and Knowledge Management, and tutorial chair for ACM SIGIR. She is serving as an associate editor for ACM Transaction on Information Systems. Dr. Zhang received her Ph.D. from School of Computer Science at Carnegie Mellon University, specializing in Language and Information Technologies.
Ph.D., School of Computer Science, Carnegie Mellon University
M.S., School of Computer Science, Carnegie Mellon University
B.S. Computer Science and Technologies Department, Tsinghua University