UCSC Earth Week
Earth Week 2018: Personal Change, Global Impact
April 21-27, 2018
Check out our events below or view our calendar.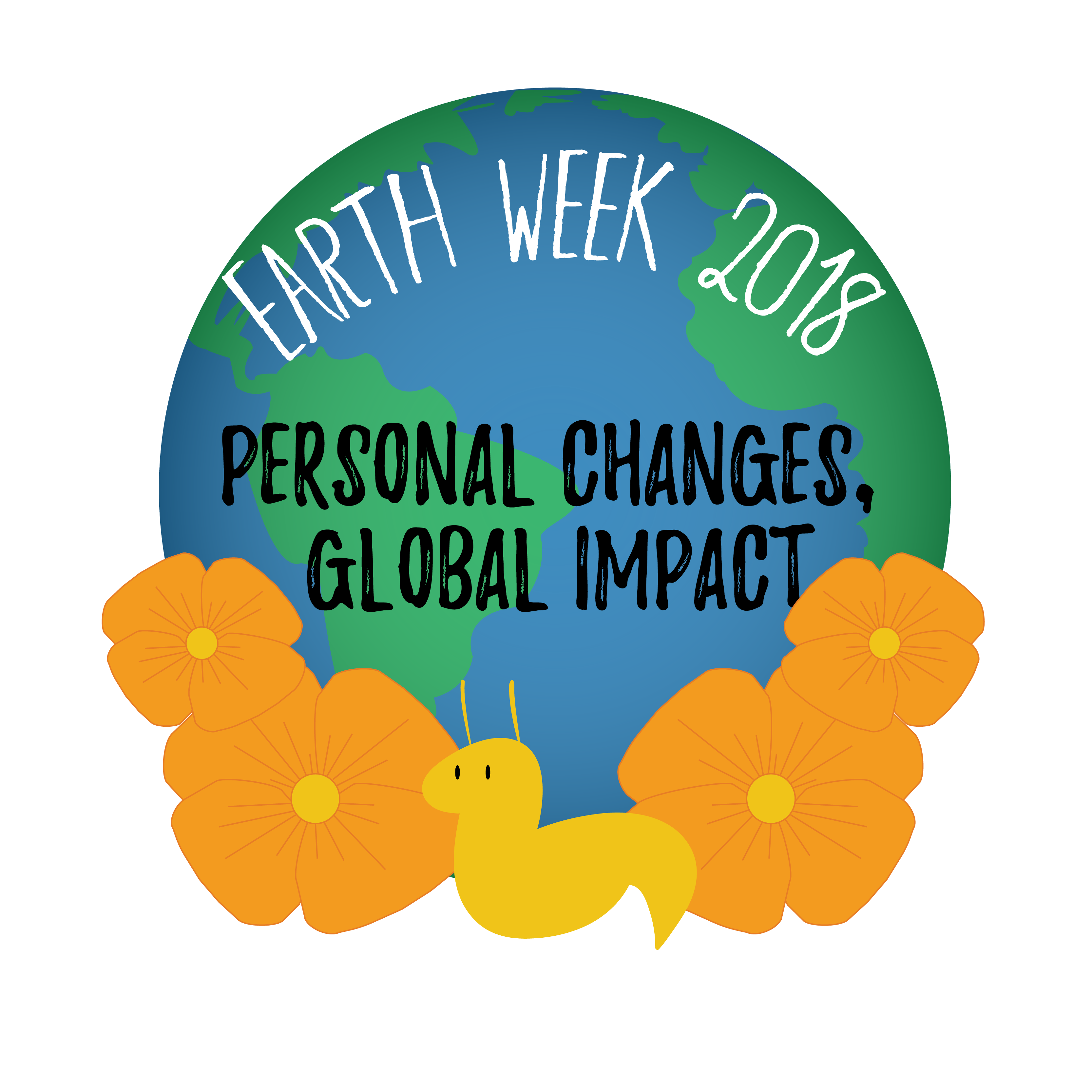 Saturday, April 21
Earth Day Santa Cruz
11:00am-4:00pm | San Lorenzo Park
Check out this exciting community event offering educational information, activities, vegetarian food, live music, and a focus on green businesses!
Host: City of Canta Cruz
Contact: scearthday.org 
Sunday, April 22
4th Annual Campus Cleanup 
10:00am-2:00pm | Starts at Quarry Plaza
The event gathers over 175 participants each year to work together to collect waste and litter from our beautiful campus. We will have the cleanup, tabling, and a raffle!
Host: Sustainability Office
Contact: lfusello@ucsc.edu
Tuesday, April 24
Grounded: The Roots of Coffee
4:00-5:15pm | RCC Red Room
We will be explaining the different ways in which coffee can be utilized.
Host: FoCAN
Contact: maguil20@ucsc.edu
Plant to Preserve
7:00-9:00pm | RCC Red Room
Decorate a pot and learn how to plant herbs and wildflowers, learning about the positive impact of in-home gardens.
Host: Earth Week Team
Contact: rccearthweek-group@ucsc.edu
Wednesday, April 25
Sustainable Wheel of Fortune
1:00-3:00pm | RCC Plaza
The sustainability Office will have a table where people can come up and spin the sustainable wheel of fortune for the chance to win one of our fun prizes!
Host: Sustainability Office
Contact: owolf@ucsc.edu
8th Annual Local & Organic Tasting Fair
11:30am-2:30pm | Colleges 9 & 10 Multipurpose Room
Everyone is welcome to attend this FREE event! Come try free samples of local, organic, and sustainable foods served here at UCSC! Prepare to be delighted by the variety of great produce, snacks, and drinks. Learn more about your UCSC Dining options, discover our local and organic vendors, and of course - mingle and have fun with friends.
Host: UCSC Dining, Colleges 9 & 10
Contact: jmag@ucsc.edu
Conservation Crafting
4:00-6:00pm | RCC Red Room
Come make DIY plastic wrap replacements and tie-dye an Earth Week shirt, learning about how you can make little changes to upcycle and reduce waste!
Host: Earth Week Team
Contact: rccearthweek-group@ucsc.edu
Thursday, April 26
Sustainable Smoothies
10:00am-12:00pm | RCC Plaza
Free smoothies with in-season and local ingredients with information about eating sustainably and affordably.
Host: Earth Week Team
Contact: rccearthweek-group@ucsc.edu
Sustainability Fair
10:00am-2:00pm | Quarry Plaza
Information for students and faculty about renewable energy and eight topics in sustainability. Free giveaways from Patagonia, Kleen Kanteen, Yerba Mate, and Cliff Bar.
Host: Sustainability Office, Carbon Neutrality Initiative
Contact: agarc117@ucsc.edu
Dine with the Lorax: YOU Can Speak for the Trees!
5:00-7:00pm | Oakes/Carson Dining Hall
Join us for delicious food and whimsical decorations centered around the teachings of the Lorax. Organizations will be tabling so you can learn how to make a difference. Meal plans NOT required. Must be an undergraduate student and show ID.
Host: Earth Week Team
Contact: rccearthweek-group@ucsc.edu
Merchants of Doubt Movie Screening
5:00-7:30pm | Kresge Seminar Room 159
Come watch a free screening of Merchants of Doubt and engage in a discussion on the political and social influence of the fossil fuel industry and the role of Fossil Free UCSC/Divestment.
Host: Fossil Free UCSC
Contact: lblevin@ucsc.edu
Veganism: Inclusive & Sustainable
6:00-8:00pm | Namaste
Education on the vegan diet: why is it better for the planet, for personal health, how it can be and how we can make it more inclusive and accessible. Examples of what food is affordable and easy to make for students in college.
Host: Sustainability Office
Contact: kalibrio@ucsc.edu
Friday, April 27
SEEDBED: A Soil Symposium
9:00am-7:00pm | Hay Barn
Students affiliated with the Sustainability-Lab, IDEASS Program, and the Rachel Carson College Sustinability Studies Minor will showcase innovations in sustainable design and green entrepreneurship.
Host: S-Lab, Rachel Carson College, E.A.R.T.H. Lab & CASFS
Contact: tball@ucsc.edu, tfavalor@ucsc.edu 
"Now U.C. It: Basic Needs Crisis at UCSC" - Enviroslug's 17th Annual Earth Summit
10:30am-3:30pm | Colleges 9 & 10 Multipurpose Room
Speakers and tabling activities focus on students' basic needs and what we all must do to fight for them on campus. Free food provided!
Host: Student Environmental Center
Contact: chlfishe@ucsc.edu
Rachel Carson Bust Unveiling
2:00-3:00pm | RCC Plaza
Please join the members and friends of Rachel Carson College for the official Earth Week dedication of student Rachel Smith's bust of Rachel Carson. Food and drinks will follow.
Host: Rachel Carson College
Contact: eakl@ucsc.edu
---
Check out Earth Week throughout the years!
---