Rachel Carson College Self Guided Tour
Welcome to Rachel Carson College (formerly College Eight)! 
Thank you for taking the time to visit Rachel Carson College (formerly College Eight). We are committed to making Rachel Carson College (formerly College Eight) a safe and inclusive learning community where students will become academically & interpersonally sucessful. Our theme is "The Environment and Society," and through this theme we challenge students to become actively engaged in environmental and social justice issues. 
We invite you to a self-guided tour of our college using this pamphlet four tour stop information. Please use this map to help guide your way. Feel free to adventure through Rachel Carson College (formerly College Eight)! 
1 - Academic Building
2 - Mail Room
3 - Dining Hall
4 - College Eight Cafe
5 - Student Commons
6 - Study Center
7 - West Field House
8 - Living Areas
#1 - Academic Building

Located on the first floor of this building, the College Office provides assistance with registration processes, student records, and scheduling academic advising appointments. You will also find faculty offices, classroom units, and a computer lab in this building. The Provost, Academic Advisors, and Peer Advisors work out of this office.
#2 - Mail Room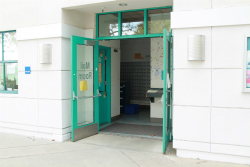 Each resident at Rachel Carson College has a mailbox to receive mail and packages throughout the academic year. The mail room is also a great place to pick up campus newspapers and check out flyers for upcoming UCSC events.
#3 - Dining Hall
One of the five dining halls on campus, the Oakes/Carson Dining Hall offers a wide variety of food options, and is open 7 days a week during the school year. The Dining Hall has extended late-night hours for students' convenience. The Dining Hall is also home to various special events throughout the year, such as movie viewings, "College Night" community dinners, and more.
West Field - Located behind the Dining Hall is the West Field, where students can enjoy a spacious field with an incredible ocean view; in addition to tennis, basketball, and sand volleyball courts.
#4 - College Eight Café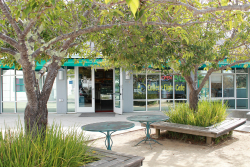 Paying tribute to the legacy of College Eight, the Cafe offers a wide range of sandwiches, sushi, coffee and teas, fresh baked pastries, and artisan ice cream by local Mission Hill Creamery. The Cafe is open Monday-Friday and is a central place for students to coordinate study groups, play pool with friends, or attend special events.
#5 - Student Commons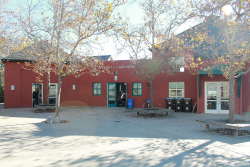 The Student Commons building is home to the Red Room (201), the Student Life Office (204), College Programs Coordinator (208) and the Student Environmental Center (210). You can also find an all-gender restroom and elevator in the back of this building!
The Red Room (201) hosts events and workshops for groups all over campus and students can find activities and entertainment there on a weekly basis. The RCC Council also meets in the Red Room on Monday nights, where they plan events and advocate for Rachel Carson affiliates.

Students can use the the Red Room for studying between 9am-2am if it is not already reserved. Check if it's available on the

Red Room Calendar

.
The Student Life Office (204) is a one-stop-shop for students to get answers about extracurricular life at RCC.
The College Programs Coordinator (CPC, Room 208) manages events and involvement opportunities at the college. They plan and execute Welcome Week, Commencement, College Nights, Earth Week, sustainability projects, concerts, dances, and more.

There are countless ways to get involved at RCC! Find out which role works best for you and JOIN IN!

RCC Council

(student government)

Carson Activities Team
The Student Environmental Center (SEC, Room 210) promotes student involvement in creating and implementing sustainable and environmental practices on campus.

Learn more

about their events and how to get involved.
RCC Garden - The RCC Garden is a student run space. Students can take a class connected to the garden, which teaches the basics of organic gardening and food justice in a peer-facilitated, experiential setting.
RCC Plaza - The Plaza is full of activity everyday of the week. You might run into K-12 school students having lunch during their tour, UCSC student organizations tabling and sharing about their programs, or a blow-up slide for a de-stressing event! Make sure to check out the plaza garden with a bronze bust of the college namesake, Rachel Carson, cast by UCSC student Rachel Smith.
#6 - Study Center
The Study Center is open 24 hours a day, 7 days a week for students to have a quiet space to continue their pursuit of knowledge. During evening hours, the Study Center is for RCC students only. To gain access at night, on-campus RCC residents can use their ID cards to enter, off-campus students can obtain a key card at the Housing Office.
Next door, you can find the Community Safety Officers (CSOs) who secure a safe living environment for all RCC residents. They support our college as first responders from 7:00pm-3:00am every night.
#7 - West Field House
The West Field House is the main recreational center on the west side of campus, maintained and operated by the Office of Physical Education & Recreation (OPERS). The facility holds fitness equipment and students can both watch and participate in sports such as basketball, volleyball, and indoor soccer.
#8 - Living Areas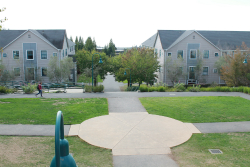 Rachel Carson houses 800 students, including the majority of our first-year students. All residents are participants in creating a vibrant, purposeful, mutually respectful, and academically successful community. 
In the B/L Administrative wing you can find the Residence Life and Facilities Staff. The Residence Life Staff include the Associate College Administrative Officer (ACAO), Coordinators for Residential Education (CRE) and Coordinator for Conduct and Education (CCE). They work together to create an inclusive and respectful living learning community.

 Our amazing facilities and maintenance staff ensure our living areas are safe and accessible for all residents.
Residence Halls offer traditional dorm-style living in double or triple rooms with shared bathrooms, common space in the lobbies, and laundry rooms. Resident Assistants (RAs) live in the halls, plan community programs, and guide residents through the transitions of college life. 

A Quad Building Themes: Multicultural Sustainability, Men Promoting Positive Masculinity

B Quad Building Themes: Social Justice, Continuing Students, LGBTQIA+ Affinity Floor

C Quad Building Themes: Service Learning

D Quad Building Themes: Women in Science & Engineering (WISE), Women's Hall
Apartments house continuing sophomores, juniors, seniors, and some new junior transfer students. UCSC students are guaranteed 2 years of on-campus housing. Between four to six students share each fully furnished apartment, each with a full kitchen, living space, and one bathroom. Each apartment area has a RA who resides in the building as support for continuing students.