Welcome Leaders
Are you ready to get involved in the Rachel Carson community? Show your enthusiasm and passion for your college through being an Welcome Leader Fall 2021!
Applications will open up during Spring Quarter 2021.
For any additional questions please reach out to carsonsl@ucsc.edu
Meet the Fall 2021 Quarter Welcome Leaders! 
Seema Lal:
Hey hey hey! I'm Seema and my pronouns are she/her. I'm the Welcome Week Lead Manager at Rachel Carson College but I'm affiliated with Cowell College. I'm a first generation college student pursuing psychology and economics. I love all things food, dinosaurs, Harry Potter and horror. When I'm not busy contemplating my life choices, you can catch me going for a drive, trying to be a chef, hanging out with my best friends or working down at the Bookstore. 
 Nayley Martinez: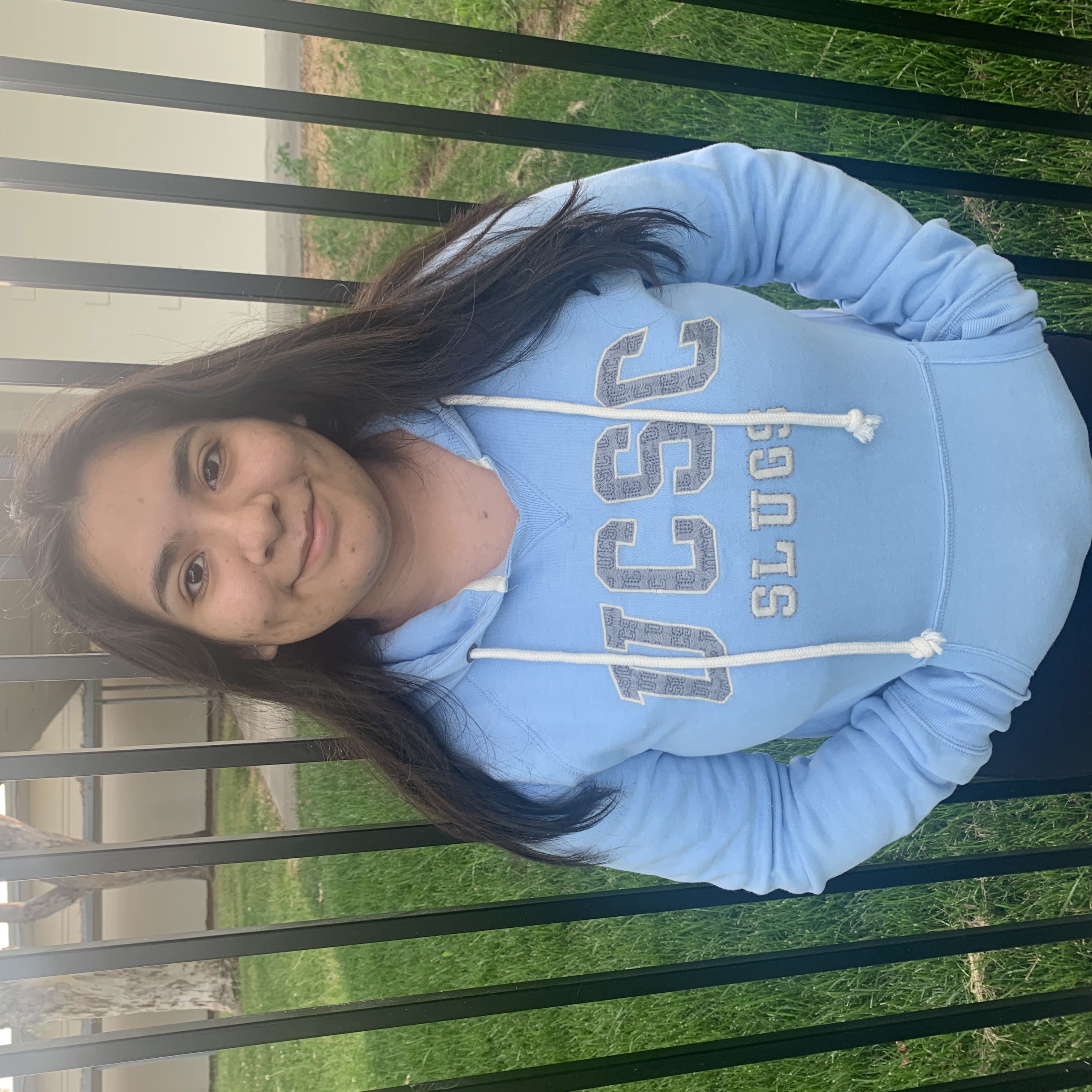 Hello! My name is Nayely Martinez (she/her). I am a first-generation Latinx student in my 2nd year and my major is Sociology.  I am a Rachel Carson College affiliate and I am working there as a Welcome Week Leader. I also work at Oakes cafe and I love watching movies, tv shows, and anything in general. You can find me laying in bed or at Disneyland with my family. I am always down for a boba/coffee and target run, but never ask me to eat seafood with you because I will politely decline. If you see me say hi!
 Viky Villanueva:
My name is Viky Villanueva, a fourth-year Rachel Carson College affiliate, chemistry major, and dance minor. I am from Merced, California, and a first-generation student with pronouns she/her. I love my dog, he is a Belgium Malinois, and he has multiple names. They are Firulais, Frito Lays, Cheeto, and Simba.
Zoe Arkin:
Hi! My name is Zoe Arkin (she/her) and I am a 3rd year Environmental Studies and Politics double major. I am affiliated with Rachel Carson College (RCC) and am also the Events Manager for RCC Council. I am also a Welcome Week leader for Fall 2021. In my spare time, I like to rollerskate, take care of my plants, and spend time with friends.
Nikihita Kalluri:
Hi! I'm Nikhita and I use she/her pronouns. I am a second year student affiliated with Rachel Carson College, double majoring in Computer Science and Environmental Studies. I'm also a Fall 2021 Welcome leader at RCC. In my free time, I love to do yoga, create art, and be outdoors. I am also a climate and animal rights activist, so I believe it's important to stand up for the world around me.
Gaby Barrera:
Hi everyone my name is Gaby and I am a 3rd-year Sociology and Education major. I use
pronouns She/Her and I am Porter Affiliated, but so excited to be working with the Rachel
Carson Community. Some of my favorite hobbies include reading, listening to music, and
hanging out with my friends.