Student Spotlights
Carlee Bowen, Sasha Tcherepanov, Vishnu Nair: Natural Resource Management IDEASS
Have you ever thought about how each time you flush a toilet, perfectly good drinking water is literally going down the drain while stormwater runoff is flooding walkways or pooling up in playgrounds, parking lots, roofs and other impermeable surfaces? That may no longer be the case at the dorms of Porter College, as an industrious group of students has partnered with campus staff to create a forward-thinking alternative for non-potable water systems, while simultaneously learning about potential career paths they had not previously considered along the way.
The group consists of Sasha Tcherepanov, a third-year Environmental Studies & Education double-major, Carlee Bowen, a fourth-year Environmental Studies major & Sustainability Studies minor, and Vishnu Nair, a second-year Marine Biology major and Sustainability Studies minor. Since Fall Quarter of 2020, the group has been working on Rainwater & Stormwater Harvesting plans at Porter College and the Biomedical Buildings on campus. 
"It's actually really cool to be learning about something so specific," says Carlee Bowen. "The topic of natural resource management is really broad, so focusing on developing these non potable water systems has opened up possibilities for potential career options in the future."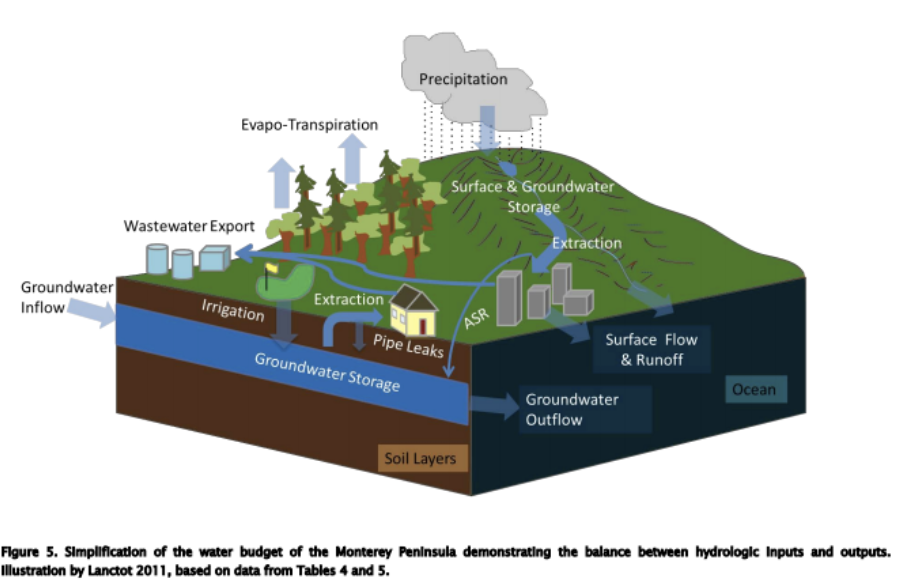 Potable water demands include drinking water, showers and lavatories while non-potable demands include toilets, urinals, irrigation, cooling tower makeup water, auto-washing, and others. Approximately 50% of the total annual water use on campus are from non-potable demands. After reviewing different long-range development plans (LRDP) and several past engineering reports on non-potable water systems for the campus, these "raingineers" met with the Campus Stormwater Manager Courtney Trask and Mechanical Engineer Bob Minardi to jumpstart planning for non-potable water catchment and re-distribution systems. By Winter quarter, the group was ready to take a serious look at integrating stormwater catchment systems into the dorms at Porter College, which have previously been outfitted with a dual plumbed "purple pipe" system to accommodate both potable and non-potable indoor plumbing. 
What can you expect from an IDEASS project experience?
The group is devising three potential approaches to harvesting rain and stormwater runoff to satisfy the dorms' toilet flushing system. The team is taking what they've learned at the Wellness Center & Porter College and working their way across campus to assess the feasibility of implementing dual-plumbed water systems in various locations.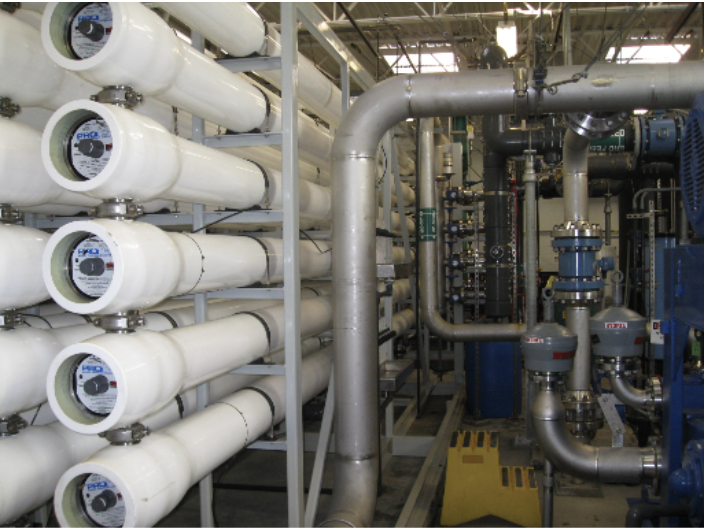 "Since we had a great template for the Porter dorm study and had a good understanding of the schematics and costs associated with a large-scale project on campus, we've used this template to investigate other potential locations such as the Biomedical building on Science Hill, the East Field Parking Lot, as well as getting involved with plans surrounding the Student Housing West project currently in design," says Sasha Tcherepanov. " 
While the group has successfully completed their Porter dorm study, they endured their fair share of obstacles when exploring various solutions to the aforementioned issues. The undergrads are gaining invaluable experience in professional development through their interactions with architects, campus planners and staff. Through hands-on experience, they are learning what it takes to overcome resistance or skepticism and how to go through the paces to make feasible suggestions and bring alternative ideas to fruition. The team's advisor Bob Minardi has been a key supporter. Minardi has worked with IDEASS groups in the past and helped see to fruition projects such as the non-potable water system in the campus Wellness Center, which collects rainwater and is used to flush toilets inside the facility.
Working together for the first quarter, the team collaborated to conduct research and interviews with stakeholders. 
"One thing I love about this class and the Sustainability Studies minor in general is that everything is really collaborative and so project-based. We get to interact with each other on a daily basis while also learning from each other at the same time." --Carlee Bowen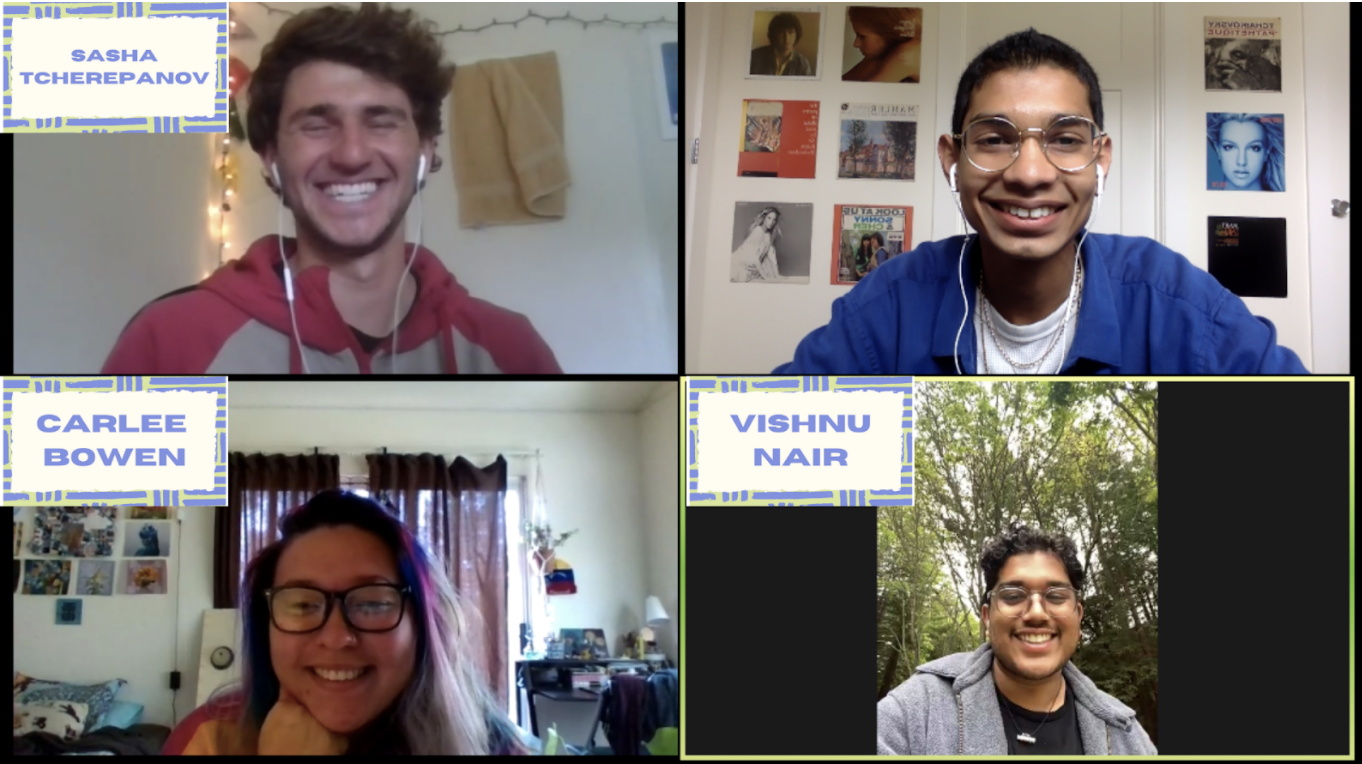 IN TEN YEARS: When asked where they see themselves in ten years, Vishnu sees himself learning more about plastic pollution and hopes to be doing research on its coastal and marine health impacts. Carlee would like to be doing some sort of environmental education community work with children, or pursuing Sustainability education through an International Relations pathway. Sasha also hopes to work with youth to expand visibility for our natural ecosystems.
---
Emily May: Sacred Sprouts IDEASS Project
Kids are spending more and more time on digital devices these days. What can we do to bring a direct connection to nature back into the education equation? How can temperate rainforests help us grasp mathematical concepts? How can grasslands influence our understanding of art? How can nature improve our retention of modern learning practices? This is what Emily May, a Science Education Major, is striving to explore through her IDEASS project, Sacred Sprouts. A host of educational kits aimed at creating meaningful experiences and new perspectives for students through a focus on science exploration and sustainable practices.

After working with children for twelve years and gaining experience by counseling at various summer camps, the idea for her educational kits was inspired. Emily wanted to merge her two passions for nature and education to create a project that promoted sustainable values in an academic setting. The ongoing COVID-19 pandemic also influenced the kits, serving as a way to keep children mentally stimulated about sustainable education during remote learning. The events of this past year have made it evident to Emily that these kits are a scalable project, considering the probable normalization of hybrid learning systems in coming years.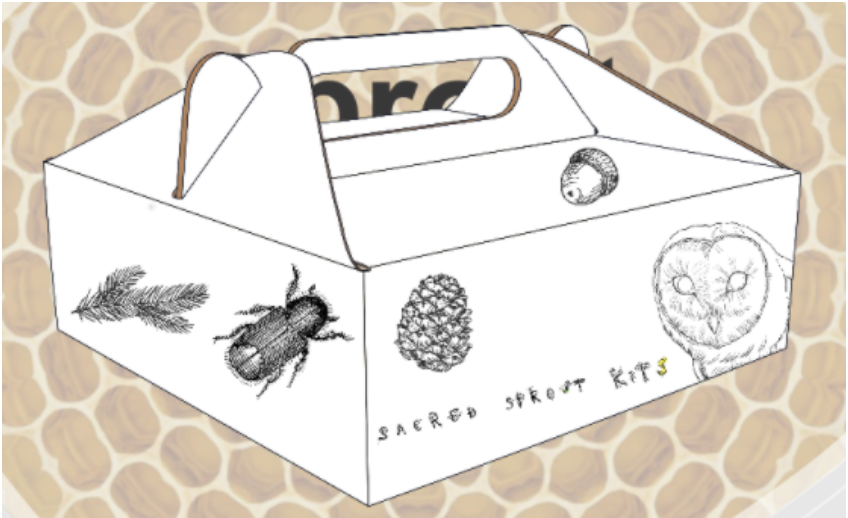 One aspect of the themes promoted in the educational kits is sacred geometry, a model which involves ascribing symbolic and sacred meanings to geometric shapes & proportions. Inspired by the spiritual approach of Waldorf school systems, the model stood out to Emily as a way of integrating humans back into nature by using geometric forms rooted in ancient cultures (such as "flowers of life") to reveal our inner-connectedness to such sacred environmental systems. 
Emily hopes to develop six different kits with five lesson plans each. To establish a holistic approach, each lesson plan will focus on a different field of study, including a math lesson, science experiment, art project, reading & writing project, and outdoor fitness sequence, as well. Each kit will be modeled after a holistic approach to education, and hopefully will be built off one another to maintain a consensus of flow throughout all subject fields. Furthermore, each kit will represent a local ecological region in Santa Cruz. Emily hopes to take a nonprofit approach towards distributing the kits, hopefully being able to donate the kits to children in need. Emily hopes to mirror the curriculum off of Santa Cruz's local ecological regions such as our temperate rainforest, coastal marine systems, desert sandhills, etc.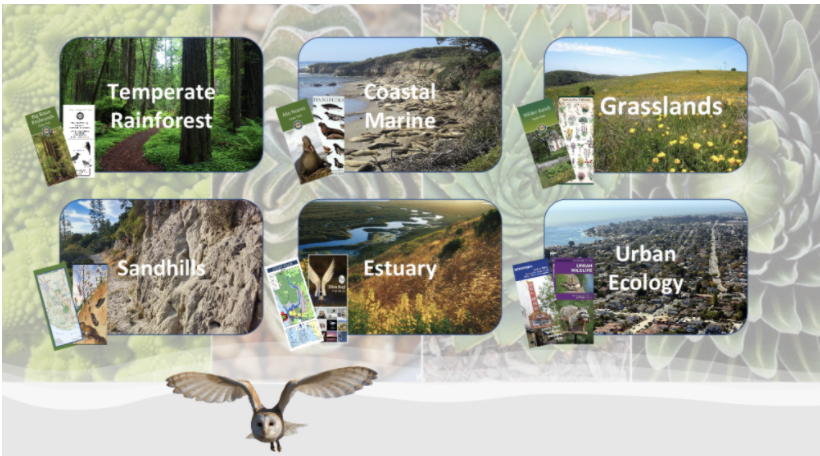 Emily looks forward to adding new members in the next academic term (Fall quarter 2021)  to further the project towards its final stages. 
"Emily welcomes new recruits to join her in the Sacred Sprout endeavor. She is excited to meet partners that share her mindset: motivated individuals who are interested specifically in early education and who would enjoy a focus on environmental art & natural history."
IN TEN YEARS: When asked where she sees herself in ten years, Emily hopes to be working full-time as an educator in an elementary school. She has considered alternative education, such as working in a science camp, Waldorf school or forest private school.  Ultimately she hopes to create a distributed rather than hierarchical model where even the youngest students are participants in creating the learning agenda. Emily first realized that she wanted to work with children when she first volunteered as a cabin leader at a science camp in high school (fun fact: she returned to the job 5 times!). After working at a camp for eight summers, Emily realized that she could do this forever and remain happy.
---
IDEASS Student Spotlight: CRSN 152-02 | Coastal & Marine Health Curriculum Project
Since its conception in 2010, the IDEASS program has cemented its status as being the driving force for turning students into forward-thinking leaders of sustainable education. While the IDEASS courses are infamous for providing students with the requisite skills needed to bring their innovative ideas to the forefront, the courses are also instrumental in transforming students from pupils into educators of their own league. This is what two students working in Stella Hein's Coastal and Marine Health section, Ellen Casad (Marine Biology major) and Verio Panelli (Politics major & Sustainability Studies minor) hope to tackle with their project of creating a curriculum and website for fifth grade students focusing on the environmental impacts implicating Elkhorn Slough, an estuary located near Moss Landing. 
The estuary, often defined as a coastal embayment consisting of deepwater subtidal habitats with adjacent intertidal wetlands, is home to various wildlife and species. Elkhorn Slough is currently under attack due to unsustainable practices, causing harmful changes to the surrounding land and wildlife such as the eelgrass and otters. Some of these practices stem from untenable farming systems such as the use of chemical pesticides and fertilizers, which infects the water runoff thus impacting the Elkhorn Slough area. Additionally, these unsustainable practices have caused other elements of the slough's ecosystem to warp out of balance, such as an increase in crablife.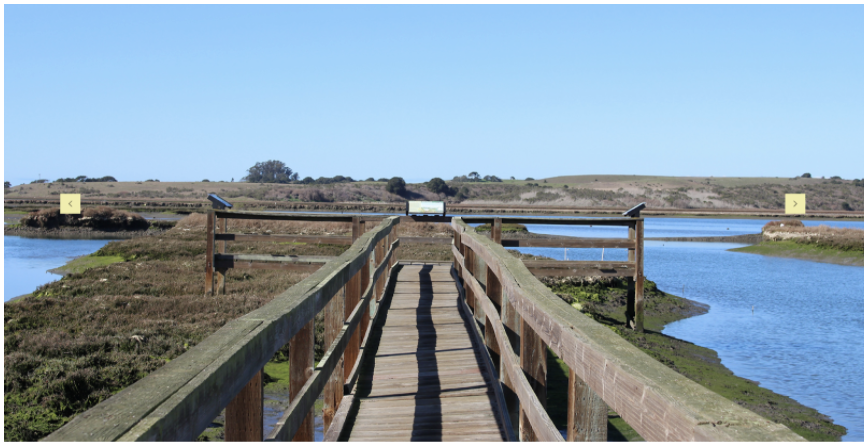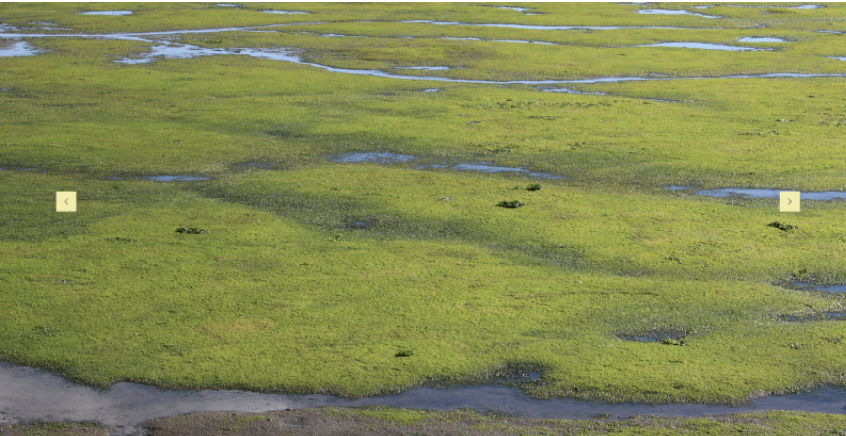 One aspect of Ellen and Verio's project involves designing a website which focuses on educating fifth-graders about the impacts of said sustainability conflicts while also informing them of the positive natural beauty which Elkhorn Slough has to offer. The students plan to bring light to such issues through methods such as crossword puzzles, vocabulary sheets, interactive games and more!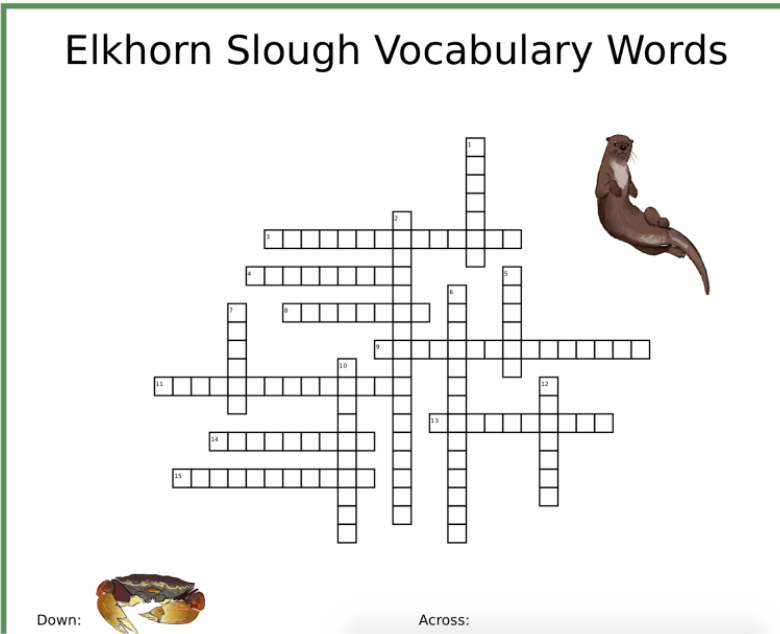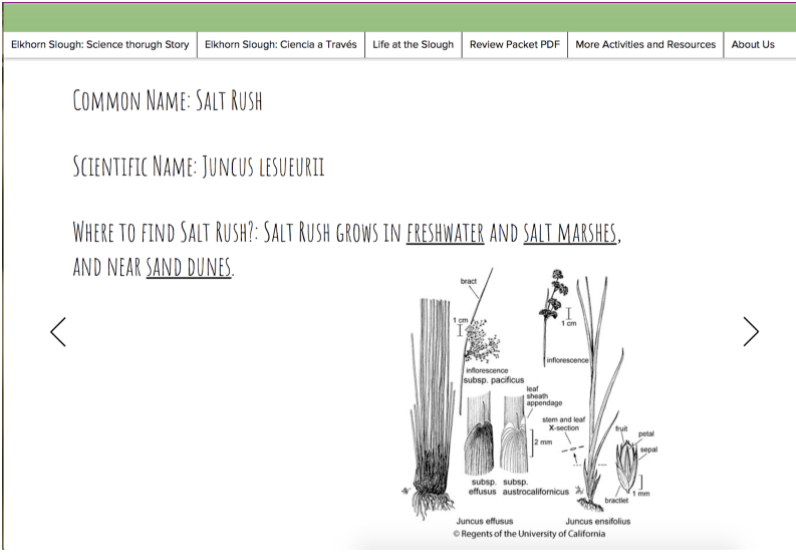 Although both students actively collaborate to develop the website and curriculum, they prefer to divide research work between each student's respective area of expertise. For example, Verio describes their skill sets to focus on trophic levels, marine systems and interactions between different organisms while Ellen carries a heavier focus in native plantlife. The group has hopes to implement this curriculum into schools (local and hopefully beyond) in a way that aligns with the current academic values and plans of the instructors.
IN TEN YEARS: When asked where they see themselves in ten years, Verio wants to complete a Master's program and hopes to conduct research into the reproductive behavior of different types of nudibranchs. "As long as I have the ability to utilize my degree in a somewhat efficient way and still not feel overwhelmed, I think I will be living a good life." Ellen hopes to work with plants in landscape or ecological design (fun fact: she's currently working on a plant nursery!) and is also interested in starting her own business by "creating a craft of some sort, whether that be with plants, landscape or such."
---
Student Spotlights: IDEASS Tiny House Building
In recent years, Santa Cruz has faced a grueling housing crisis resulting in the displacement of many members of our community who struggle to secure stable housing, from students to locals alike. The lack of space and growing financial burdens associated with new housing projects have resulted in a halt on development, and citizens are scrambling to locate reasonable accommodations. This is the problem that the Sustainable Designs for the Built Environment section (CRSN 152-04) of the IDEASS capstone program seeks to address through their innovative Tiny House Building project.
The group, led by physics graduate student Eli Nygren, consists of a mix of undergraduate and graduate students working together to design and construct housing accommodations styled as "tiny houses". The students, some of whom hold expertise in an array of different areas from construction to design planning, are joining forces to create exciting adaptations of the recent tiny-house wave.
"It feels very much like a collaborative effort, with our meetings on Wednesdays where we discuss what we'd like to accomplish that week and brainstorm ideas for what to build during our in-person meetings on Fridays.", says Christopher Lang, an Environmental Studies graduate student who joined the project this quarter.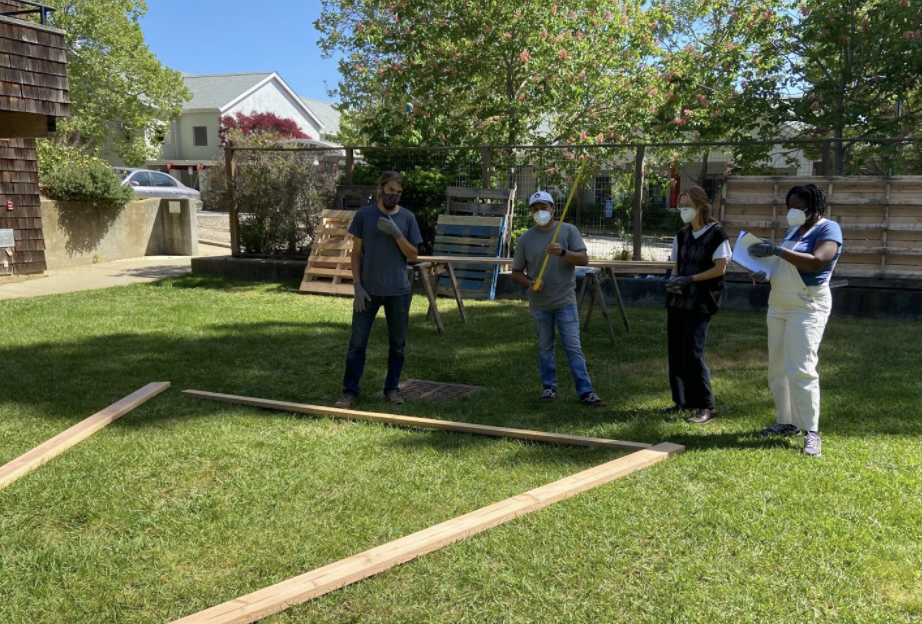 While the project is still very much in its early stages of development, the group has maintained their goals to focus on creating a structure that is livable, resilient and made from salvaged materials such as repurposed wood. The focal point of the project is for the group to work with their surroundings in a more Earth-conscious way to see what can be accomplished for a project of this scale in such a short amount of time. "There's just so many reasons why our current housing model is not only socially unsustainable but also environmentally unsustainable, and so thinking about how to create housing that effectively addresses community needs without contributing to landfill waste is a big goal of ours." Christopher also hopes to see projects of this kind expand greatly to service an array of different communities. "It would be cool to design an entire village of tiny homes to serve communities of people who struggle with housing insecurity and other extenuating circumstances."
When asked about obstacles that the group has encountered throughout the course of their project, Christopher, like many others as of late, recounts most of their challenges being tied to working during a global pandemic. "I think the biggest challenges that we've had to overcome surround just being able to meet and develop a project like this under the constraints of the COVID-19 pandemic." The students meet once a week in person, commuting from places as far as Oakland to Redwood City. The group has also faced obstacles finding standardized materials for their building plans, such as coordinating wooden pallets. Additionally, the group's lack of exposure to construction practices has introduced challenges, but nothing that the team cannot overcome.
"You have this idea of what a tiny house prototype looks like in your head, where it's decked out with features like a bathroom and piping. But it's actually much more complex. For now, we're just concerned with building the main structure." I'm really grateful to see what can be done with a few sets of tools and a collective vision. I definitely want to use this as a springboard to deepen my own woodworking skills. I'm looking to visit more salvaged material suppliers, find some wood, and begin to make things more creatively for a livable structure.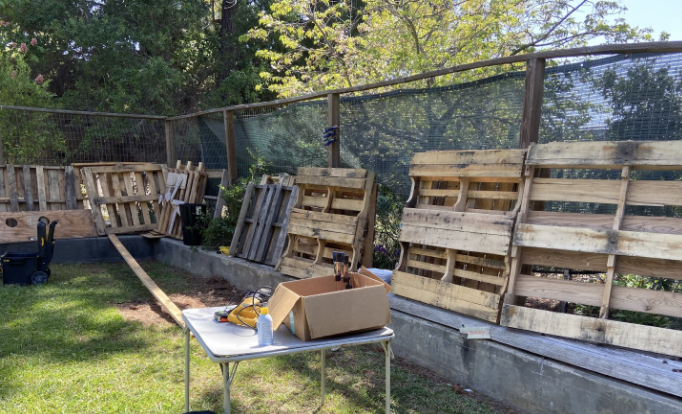 Other group members include Jazmin Benton, a graduate student in the Visual Studies P.h.D program; Isabella Winkler, a third-year Environmental Studies major with a concentraton in Agroecology; and Gianni Castanon, a fourth-year Environmental Studies major with a concentration in Agroecology. Gianni recounts how seeing the influx of tiny house communities on social media in recent years had influenced his decision to become a part of the IDEASS team. Jazmin and Isabella wanted more experience in working with carpentry practices.
Complete list of students involved in the project include Jazmin Benton, Breonna Byrd, Gianni Castanon, Yesh Chandiramani, Christopher Lang, Scott Macdonald, and Isabella Winkler. 
IN TEN YEARS: When asked where they see themselves in ten years, Gianni hopes to work in conservation and urban development. Isabella plans to utilize the carpentry skills they gain
during this project in their hopes to work within a community garden. Jazmin wants to become less reliant on buying things and instead develop a more homespun, innovative approach in their shift towards sustainable living. Christopher wants to use this project as a springboard to deepen their own woodworking skills, as they transition to shopping from more salvaged material suppliers to begin making things more creatively for a livable structure. 
---
MyPantry App:
Did you know that one in ten U.S. households struggle to gain reliable access to healthy food?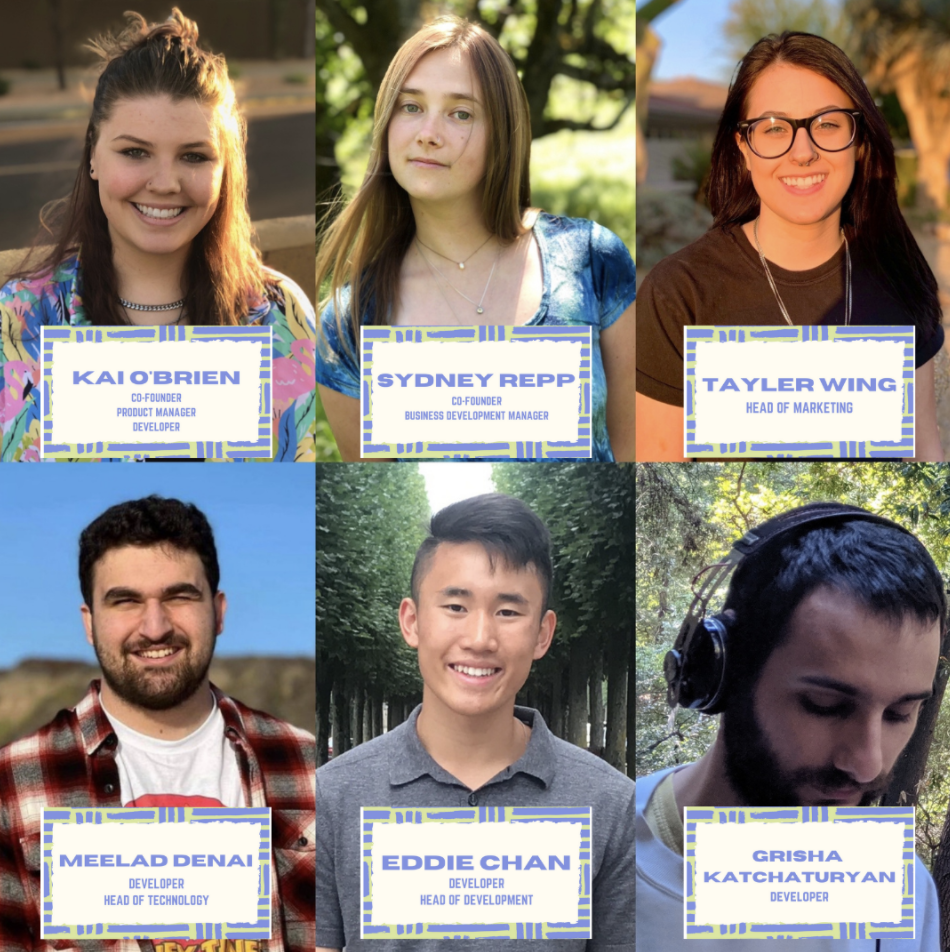 Have you ever thought about taking advantage of the food pantries on campus but felt sensitive about the stigmas around them?  Inspired by a desire to support families and individuals across the country who face food insecurity, UC Santa Cruz student Kai O'Brien and recent graduate Sydney Repp set out to develop MyPantry, a mobile app designed to bridge the gap between food assistance programs and qualified patrons by restructuring the way users and providers relate to each other.
The idea for the MyPantry manifested Spring Quarter of 2020 when students were enrolled in  CRSN 151B:  Innovation and Professionalization for Sustainability Designers which is a  hallmark of Rachel Carson College's Sustainability Studies minor. The students wanted to create an app that expanded transparency within food assistance programs by compiling information about programs into one site.  Crowd sourcing strategies which allow users to share details about any pantry's defining characteristics, such as options for those with dietary restrictions, inclusive food options and logistical requirements such as bringing ID/proof of residence, wait & pick-up times, are now being incorporated into the product design. The team has relied heavily on customer discovery techniques popular among entrepreneurs following the Lean Launchpad methodology to make the app more desirable & fulfilling.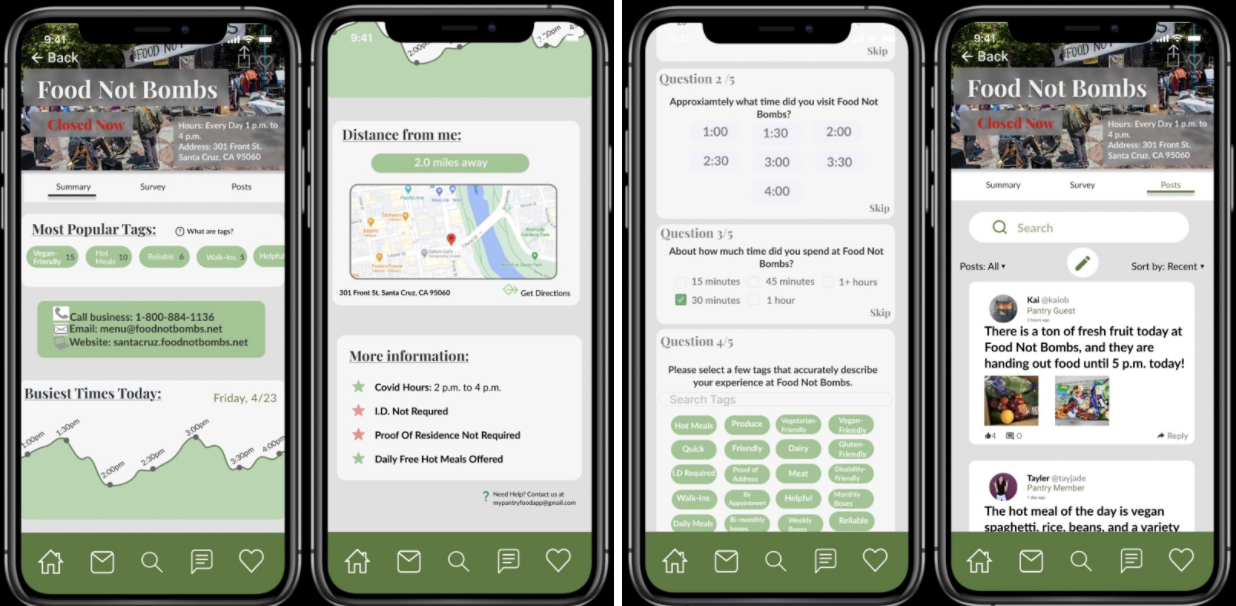 Kai recounts using their recent experiences with health and dietary restrictions to integrate new components of the app that advise about certain programs' determinants such as mobility-impaired accommodations. "My own personal experience is largely contributing to how I think about our user needs." This data can be confirmed over time as more users interact with the app.
Since its conception, the project's team has grown from just Kai and Sydney to include two students from CSC 115, a Software Design course at UCSC, on their Development team, as well as another developer recruited from the IDEASS course. The project also retained another student outside of Santa Cruz to serve as the project's Marketing Head, managing the website & social media accounts and generating an online presence for the project.
Since graduating, Sydney has turned their focus to business-centered practices such as securing funding and outreach for potential partnerships (including discussions with Food not Bombs) while Kai mainly works with project management and development teams to lead on coding the app. The project received $500 in funding from the National Science Foundation's I-Corps program, which allowed the team to expand development for their website. Kai and the group hopes to have a functioning app which they can start beta-testing by 2022, after which they can officially begin working with food assistance programs to launch the app.
IN TEN YEARS: When asked where they see themselves in ten years, Kai would love to continue working a full-fledged career centered around MyPantry! "It's a really scaleable project, and it can be applied to anywhere in the world that's struggling with food insecurity." When asked about her experience with the IDEASS courses, Kai rates them a ten out of ten, stating that "The course is the only reason this app has continued to go on the way that it has." 
---
CRSN 151B: 
Innovation and Professionalization for Sustainability Designers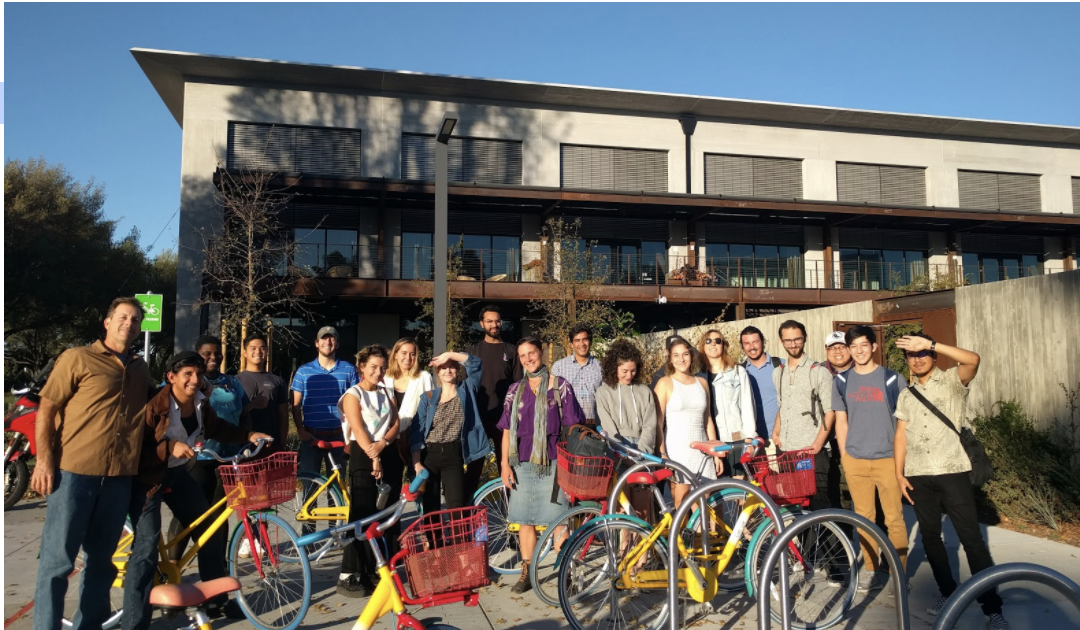 Have you ever wondered what you could achieve with the right resources, space and funding? Do you have an innovative idea for how to create a more sustainable world? CRSN 151B provides that exact opportunity! 
CRSN 151B: Innovation and Professionalization for Sustainability Designers (also offered as CRSN 155S during Summer Session) is an upper-division course for students motivated to  create, fund,  and actually implement entrepreneurial solutions that address grand challenges. As a cornerstone of the Sustainability Studies Minor at Rachel Carson College, this course is just one of many ways in which the minor prepares students as entrepreneurs who know how to cost-effectively put ideas for sustainable and technological innovation int practice. Over the course of ten weeks, students learn how to design and field test social and technological ideas to support regenerative interactions between people and the planet.  They also gain the requisite skill-set needed to build thriving purpose-driven startups or social ventures that retain financial success.
CRSN 151B is a heavily experiential and project-based course. Students are expected to practice teamwork and outreach in order to generate informed solutions for the problems they decide to tackle, while also interviewing affected parties to gain insight into the real-world impacts of such issues. This course places an emphasis on human centered design using the "lean launchpad methodology" to understand more about the needs and desires of potential end-users. CRSN 151B also uses design thinking toolkits as guidance systems for students to ideate, prototype and workshop iterative solutions that align with the triple bottom line framework: People, Planet, and Prosperity. These toolkits are especially useful for preparing students for potential careers as designers, engineers or leaders in public sectors of academia, industry, and even civil society. 
Overall, CRSN 151B's intensely hands-on approach and exposure to real-world ideation of feasible solutions makes it a hallmark of the Sustainability minor, as it not only successfully provides students with the requisite tools to become effective changemakers of environmentalism, but also adequately embraces the experiential learning techniques promoted by all of the courses in the minor.